This is the second article in our series in recognition of Patient Safety Awareness Week.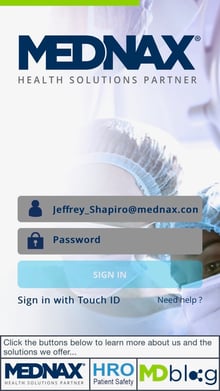 Patient safety requires a constant vigilance and mindfulness, which is supported by programs such as our High Reliability Organization initiative. As part of the HRO program — through the establishment of a Reporting Culture and a Just Culture — we empower providers to identify and share patient care issues so that teams can take immediate action. Incident reporting can increase patient safety, and a proactive mindset can help contain and prevent errors. One of the most valuable tools to facilitate this effort is our mobile Clinical Safety App.
A high reliability organization relies on empowerment and communication, and our app helps make that possible. The process for reporting concerns has evolved over time. Initially, providers depended on a paper reporting system or a desktop computer, but both had limitations – primarily, the time that passed between when an incident occurred, when the concern was submitted and when corrective action could be made. Jeff Shapiro, MD, Director of the MEDNAX anesthesia HRO program, helped drive the launch of a web-based app, followed by two releases of a mobile platform.
Technology facilitates communication
In October of last year, MEDNAX launched the more sophisticated third version of the Clinical Safety App, which is available through the popular app stores. It offers users a clean, intelligent, simple, yet robust, experience. With the touch of a few buttons, a clinician can use his or her tablet or smartphone to report a safety concern in seconds, as well as receive updates on reported incidents and gain access to resource documents. "People are thirsty for communication," said Dr. Shapiro. "Our app gives them that connection."
The app allows for various types of push notifications, which include redacted concern reports to help educate a team after an incident, basic "FYI" bulletins, critical safety alerts — such as a medication, equipment or supply issues — or general safety notifications. These communications can be sent to a single practice or system-wide, which currently includes 26 anesthesia practices across MEDNAX who have access to the app.
"Research shows that most technology users simply do not read emails these days because we are so overloaded with information. We had to find a way to break through the noise and reach our teams," said Dr. Shapiro. "The app provides a straightforward communication system, so we can help keep teams informed while also highlighting the most important messages, such as critical safety alerts, which come through the app and are designed to grab a user's attention."
In addition to the notifications, practices benefit from the document management function of the app, which permits "immediate finger-tip information," said Dr. Shapiro, "such as manuals, reference tools, articles and even surgeon preferences. It's all there, conveniently housed in your device."
Fulfilling the goals of high reliability

The Clinical Safety App has become a fundamental part of the HRO program. It doesn't just help providers share information; the app bridges communication gaps and connects many of our larger practices, spread across wide geographical areas. The app also facilitates the essential features of high reliability theory:
Empowering the individual: Every team member has access to the app, which breaks down the hierarchy of power on a care team. All team members are expected to speak up and report patient care issues. Non-MEDNAX employees at participating facilities can also use the app, which further enhances patient safety.
Creating a Reporting Culture: The app enables real-time reporting. Once a report is submitted, an app administrator at the facility is notified and can act. "We focus on rapid response," said Dr. Shapiro, who is a system super user. "If we know there is a problem, we can share it and hopefully fix it immediately." Additionally, the app gives us the ability to collect and review the data so we examine the broader picture. The app also allows the administrator to reach out to the reporting clinician to acknowledge a 'great save' and provide feedback. "A simple thanks tells users they are being heard and appreciated," said Shapiro.
Creating a Just Culture: HROs require a Just Culture. They do not focus on punishment for honest mistakes; they examine situations and learn from them. Reporting within the app is not anonymous; it is connected to a user's account. "We don't want to perpetuate a culture that places blame," said Dr. Shapiro. "We want to encourage people to speak up and share a 'great save' or a 'near miss.' Everyone learns and becomes better prepared when we communicate. Accountability greatly enhances the professional satisfaction of our clinical teams."
"Our Clinical Safety App is a tremendous tool and value-add for our practices, and by extension, our patients," said Dr. Shapiro. "Knowledge is empowering. By embracing technology, we are leveraging the vast wealth of information that exists within our national medical group. Through communication and shared experiences, we can continue to focus on quality improvement, close the feedback loop and put our patients' safety above all else."
Join us in our commitment to patient safety.