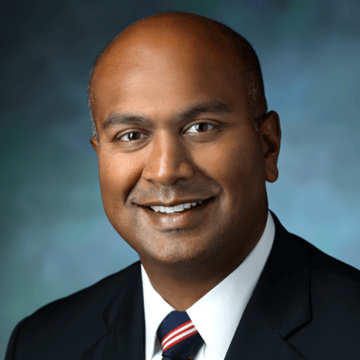 There is often the misperception that "plastic surgery" means cosmetic surgery. Plastic and reconstructive surgeries are far more complex than giving aging patients more youthful faces and bodies.
Many infants, children and adolescents worldwide suffer from facial malformations caused by congenital anomalies, injury or trauma. Some are born with conditions, such as cleft lip, cleft palate or craniosynostosis, while others sustain injuries, trauma, burns or other medical illnesses, such as cancer, leading to facial disfigurements.
Regardless of the cause, these conditions can have profound psychosocial ramifications, such as low self-esteem, poor quality of life and negative self-perception. Pediatric plastic and reconstructive surgeons at Pediatrix® Medical Group have spent years honing the skill of craniofacial, maxillofacial and various other surgeries so children with facial anomalies can live quality lives with confidence and social acceptance.
Anand Kumar, M.D., a board-certified, fellowship-trained pediatric plastic surgeon and practice medical director at Pediatrix Plastic and Reconstructive Surgery of Savannah, has devoted his life to helping restore form and function to children with facial differences. He has a long history of educating medical students and working with various medical professionals to collaborate, share knowledge, educate and learn best practices for helping people of all ages who face congenital and acquired disfigurements.
Dr. Kumar's extensive training in plastic and reconstructive surgery transcends university and traditional medical settings. He spent seven years of his career as an active-duty U.S. Naval officer stationed at Walter Reed National Military Medical Center. He was the director of limb salvage during his first tour of duty in the Iraq War. During his second tour of duty, he was director of craniofacial reconstruction.
Twice, he served aboard the USNS Comfort, a U.S. Navy Mercy-class hospital ship, providing medical aid in Haiti. In addition, as a humanitarian, Dr. Kumar has taken annual mission trips to Peru for the past 15 years. His years of experience in various roles, cultures and environments have allowed him to truly understand the impact of physical differences.
"When someone loses some semblance of normality in their appearance, the stigma of society can really decrease that person's social mobility," said Dr. Kumar. "Facial surgery is a field dedicated to restoring facial disfigurements or differences. It's rewarding to give children with any type of affliction or deformity a more wholesome and meaningful life."
Plastic and reconstructive surgery can be transformative for children with facial differences, offering numerous benefits, such as:
Physical improvement — Plastic surgery corrects structural abnormalities in the face, improving a child's appearance with natural-looking results.
Enhanced functionality — Reconstructive procedures improve the functioning of essential facial features, enabling a child to eat, speak, see and hear more effectively.
Improved self-esteem — Correcting facial deformities can boost a child's self-confidence and self-image, allowing them to feel more comfortable in social settings and improving their overall quality of life.
Psychosocial well-being — Addressing facial differences early in a child's life can prevent potential psychological issues related to bullying, social isolation and negative self-perception.
Developmental health — By addressing facial deformities early on, plastic surgery can positively impact a child's emotional and cognitive development.
Long-term impact — Plastic surgery in childhood can lead to better outcomes because a child's body is still growing and more responsive to surgical interventions.
"Reconstructive surgery is a profound healing journey that goes beyond the surface," said Dr. Kumar. "For our patients with facial differences, not only does surgery restore their appearance, but it also gives them resilience, hope and the courage to face any of life's challenges."
Achieving Optimal Patient Results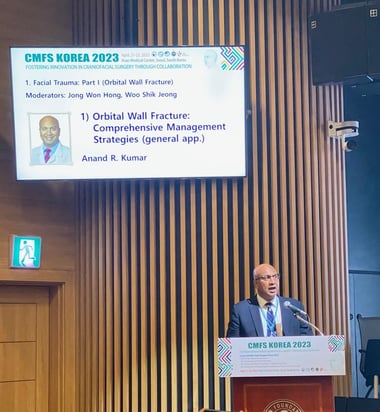 Caring for children with physical differences isn't a single-discipline practice. Dr. Kumar and his team closely collaborate with other pediatric specialists — such as otolaryngologists (ENTs), ophthalmologists, dentists, neurologists, developmental specialists, psychologists and speech pathologists — to help each child achieve optimal results.
"Every patient has unique needs that require a multidisciplinary team to achieve the best outcomes," said Dr. Kumar. "We engage at a patient level, a local and regional level and a societal level to help educate and disseminate the most state-of-the-art and current knowledge to treat patients with facial differences."
As a long-established educator at the American Society of Maxillofacial Surgeons, Dr. Kumar recently visited Seoul, South Korea, where he was a guest educator at the first international symposium of the Korean Cleft Palate-Craniofacial Association. The three-day event, hosted by the Korean Cleft Palate-Craniofacial Association, the American Society of Maxillofacial Surgeons, the Korean Academic Association of Facial Contouring Surgery and the Korean Society for Simulation Surgery, gave Dr. Kumar another opportunity to collaborate with physicians from abroad.
This type of global collaboration, in addition to working closely with other Pediatrix specialists, allows for the exchange of information on cutting-edge medical research and advancements, benefitting health care systems worldwide.
"When it comes to facial restoration, we are heavily involved in advanced medical care," said Dr. Kumar. "That is why it's essential for us to collaborate with other specialists, explore practices on a global scale and continue learning and sharing knowledge with other medical professionals nationally and internationally."
When Children Suffer, So Do Their Families
For Dr. Kumar and his team, patients are one aspect of their care. Having a child with physical differences takes an emotional toll on parents and families just as much or more so than the child. They often experience high stress levels, anxiety and sadness, potentially leading to depression. They fear how others will perceive and treat their child and the impact their child's difference will have on his or her quality of life.
Understanding that pediatric plastic and reconstructive surgeons can help restore their child's physical form and function with astonishing results helps alleviate some of these pressures. However, these surgeries are complex and open a new set of challenges for parents, such as:
The pain and discomfort their child may experience with each surgery
Caring for other children in the home while their child undergoes and recovers from surgery
Time away from work and family
Financial expenses
"We understand the pressures facing parents and families of children with physical differences," said Dr. Kumar. "While providing quality care for our patients is our primary focus, we are here to support their families throughout the facial restoration journey. Offering support resources, educational materials and compassion is an important role we play in caring for our community's families as a whole."
Pediatrix Plastic and Reconstructive Surgery of Savannah serves children with facial differences in Greater Savannah, East Georgia and South Carolina. For those outside of these areas, please visit Pediatrix Pediatric and Reconstructive Surgery to explore the conditions we treat, surgeries we perform and find a location near you.