Last spring, Brooke Small noticed that her typically active toddler was slowing down a bit and not eating as much. A visit to the pediatric cardiologist revealed that after years of waiting, the hole in Piper's heart hadn't closed on its own and was starting to cause damage to Piper's heart. Much to her parents' reluctance, it seemed inevitable that the toddler would need open-heart surgery to repair the defect. Then her pediatric cardiologist suggested an innovative, much less invasive procedure.
---
Don't have time to read? Listen to the blog on our Soundcloud account!
---
Like many infants, Piper Small was born with a hole in her heart – several, in fact. Since her birth in August 2017, she has been monitored by pediatric cardiologists Javier Gonzalez, M.D., and Jeremy Ringewald, M.D., of Pediatric Cardiology Associates Tampa Bay in Florida. By the time Piper turned three years old, two of the three defects had closed on their own. However, the one hole that didn't close was a significant ventricular septal defect (VSD), a hole between the left and right ventricles of the heart. She would likely need surgical intervention to close the hole.
"I had worried since the day she was born that she'd need open-heart surgery, so I was devastated when my husband called to tell me the news," Brooke said. "I sobbed. I did not want my child to be cut open."
Open-heart surgery for VSD requires the breastbone to be cut to reach the heart. Patients are put on a heart-lung bypass machine to pump blood while medication temporarily stops the heart. Then surgeons find the hole, patch it, remove the patient from bypass, restart the heart and close the chest incision. Often, patients require blood transfusions during surgery. While this approach is the gold standard, there can be complications, and recovery is often long and painful. Knowing that the Smalls were averse to having their daughter undergo major surgery, Dr. Gonzalez discussed Piper's surgical options with his colleagues. Dr. Ringewald, the medical director of the cardiac catheterization (cath) laboratory at St. Joseph's Children's Hospital in Tampa, suggested a newer approach.
An innovative, minimally invasive alternative to open-heart surgery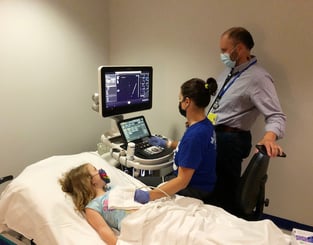 During the procedure, the cardiologist threads a long thin tube or catheter into a vein in the patient's leg to the heart and across the hole. The doctor then moves the device inside the catheter to the heart, opens and releases the device, closing the hole. The catheter is removed and a dressing is placed on the leg incision. The whole procedure takes about 2 hours. It is performed in the cardiac cath lab instead of an operating room, doesn't require artificial blood circulation or transfusions and results in a shorter recovery and minimal scarring.
After reviewing Piper's echocardiogram studies and consulting with his colleagues, Dr. Ringewald determined that Piper was a candidate for the new procedure. However, as with any technique, there are risks, including movement of the device after release, infection and arrhythmia, an irregular heartbeat.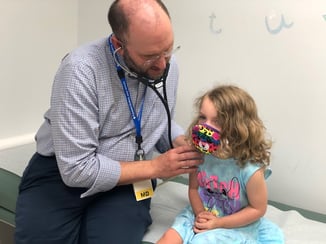 "Dr. Ringewald sat down with us to explain exactly what would happen during the procedure," Brooke said. "He drew diagrams for us and provided statistics about patient outcomes. He was very understanding and calming."
When Piper was wheeled into the cath lab for the procedure in June 2021, Brooke breathed a sigh of relief. "A moment of peace came over me at that moment. Something told me everything was going to be OK."
Piper went home the next day and returned to school three days later. Now four and a half years old, she participates in swimming, T-ball, gymnastics, karate and soccer.
"While the device was not originally designed for this application, it closed the hole immediately," explained Dr. Ringewald. "Piper's heart returned to an appropriate size soon after. I credit her parents for being open to trying something new."
"I advise parents to look at all of their options," Brooke said. "We wouldn't have known about this procedure if we hadn't been seeing Dr. Gonzalez and Dr. Ringewald. It's a win when any child doesn't have to have invasive surgery."
---
Pediatrix® Medical Group's national network of cardiologists provides comprehensive pediatric cardiology care to a broad range of patients, including unborn babies, newborns, children, adolescents and adults. Learn more.