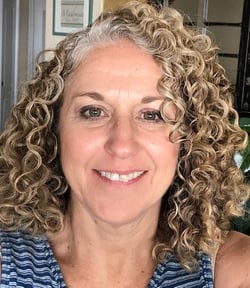 Joyce Madonia, MS, APRN, NNP-BC, knows the value of experience, no matter where it comes from. Joyce laughingly said that at a young age, she knew she wanted to be either Miss America or a registered nurse. The world may have missed out on her charitable efforts, but babies are fortunate when under her care. At an early age, she was close with a cousin who was a pediatric nurse, so she had insights to what the world of nursing could entail. She applied for nursing school right out of high school and initially worked as a float nurse but found herself gravitating towards the nursery. When an opportunity arose, she moved into that role full time. After a few years, Joyce wanted to take her career beyond bedside nursing in the NICU, so she went back to school full time to become a Nurse Practitioner, enrolling in a program that allowed her to receive a bachelor's and master's degree simultaneously.
Role reversal
When Joyce's daughter, Abigael, was born at 27 weeks, she got a new perspective on what being a NICU parent was like and felt all the uncertainty and fear every parent feels. Her family lived an hour and a half away from the NICU her daughter was in and Joyce wanted to save her maternity leave for when her daughter came home, so she continued working, opting for her baby to be under NICU care while she simultaneously took care of other moms' NICU babies. The days were very long and the emotions unlike any she had felt before, but the experience gave her an invaluable way to connect with and relate to her patient's families. Eight years later, Joyce's son, Dominic (now a thriving 16-year-old), was born at 28 weeks. The time that had passed and the advancements in NICU protocols allowed Joyce to be more relaxed this time around. With both of her children now grown, happy and healthy, it's no surprise that Abigael, now 24 years old, is following in her mother's footsteps. She graduated from nursing school in April 2020 and has a passion for the NICU. She wants to be able to give back to the profession that cared for her early on. Given her extreme prematurity coupled with her healthy outcome, she has always felt she was meant for something special. Abigael feels a career in neonatal nursing would allow her the opportunity to give back to the profession. She will start a new graduate NICU RN residency program in August.
The experience Joyce went through with both children is what she says makes her a better practitioner. For Joyce, it has given her the perspective that sometimes "the smallest things can be the biggest things." Beyond the clinical implications, she learned first-hand what it's like to miss out on all the "normal" things of a pregnancy. For example, Joyce missed prenatal and labor classes, baby showers, water breaking and all the other events that happen over the nine months of a pregnancy. She never progressed far enough in her pregnancy to feel her babies move. At the beginning of a pregnancy, feelings of joy and excitement dominate, and most women form an expectation of the events that will follow. But it's a very different reality for families that go through the NICU. These lost experiences are difficult, but Joyce explains, "It's your journey--your own unique journey and story. You'll have your own special story to tell your child. Things happen for a reason, and I believe my reason was to be able to share my experience with other moms. It has also given me a different perspective that allows me to be a better practitioner."
Ups and downs
One of the hardest parts of Joyce's career is dealing with loss and death. Though it's not something a clinician can ever truly prepare for, it's important to know and remember that each situation is unique. Although often outcomes are beyond anyone's control, there is still a struggle with emotions over wondering if more could have been done. This is one situation that never gets easier no matter how long your career may be. Most clinicians that work with an adult population or in geriatrics view death as a natural end to a long life and take comfort knowing their patients had numerous opportunities in life. But loss is not always at the forefront for those who dream of working with babies. The loss is difficult for who the baby would have been and what the family will never have.
Through the challenging times, the joy of seeing the majority of babies survive and go on to flourish keeps Joyce's spirits up. Joyce clearly loves what she does and says she wouldn't do anything different. She says, "I feel nursing is an art that provides us the opportunity to make a special impact on our patients in a way different from others in healthcare. The experiences I took from the bedside to apply as a practitioner were invaluable. I always want to walk away from a baby's bedside feeling like I made a difference. I hope my patients feel that as well." Nursing can be a hard profession, but passion is key, and Joyce is a great example of where passion and personal experience can lead. She embodies the mission of MEDNAX – to take great care of the patient, every day and in every way.
If you're interested in reading more stories like Joyce's, subscribe to our blog to stay up-to-date on all things MEDNAX.
---
Can't find time to read? Listen instead!