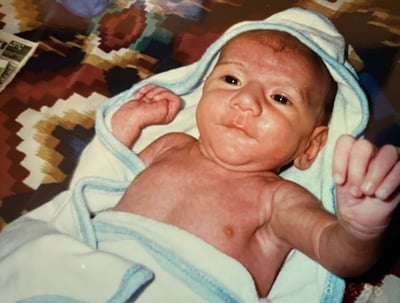 Various congenital and acquired medical conditions can have life-long health implications. Such is the case for 26-year-old Kolten Rathburn, who was born with Marfan syndrome, a genetic disorder that affects the connective tissue that supports numerous body parts, including the bones, cartilage and blood vessels.
"Our pediatrician walked into our hospital room shortly after Kolten was born to tell us he had been diagnosed with Marfan syndrome," said Kolten's mother. "My husband and I looked at each other in disbelief. We had never heard of it."
Immediately, Kolten's pediatrician requested that he be seen by specialists, including a cardiologist, cranial specialist and an ophthalmologist.
Marfan syndrome can affect various body parts, including the heart, eyes, bones and lungs, and impacts about one in 5,000 people worldwide, regardless of gender, race or ethnicity.
"Marfan syndrome can be passed down from parents to children or can derive from a gene mutation," said Kolten. "If one parent has Marfan syndrome, there is a 50% chance that their child will also have the condition."
Common signs include being tall and thin, with longer than average arms, legs and fingers, and having a curved spine or chest wall deformity. Several other symptoms, such as heart and vision problems, can accompany Marfan syndrome.
Named after Antoine Marfan, a French pediatrician who first described the condition in 1896, Marfan syndrome is a progressive disorder, meaning symptoms can worsen over time. However, with proper management, many people with Marfan syndrome can have a similar quality of life as those without the condition.
Numerous celebrities have lived successfully with Marfan syndrome, such as:
Abraham Lincoln (1809-1865), the nation's 16th president
Michael Phelps, recipient of 22 Olympic medals in swimming
Isaiah Austin, a first-round prospect in the National Basketball Association
Bradford Cox, the guitarist and lead singer of the indie rock band, Deerhunter
Julius Caesar (100 BC-44 BC), a Roman politician, military general and historian best known for his role in the downfall of the Roman Republic and the establishment of the Roman Empire
Sergei Rachmaninov (1873-1943), a Russian conductor, composer and pianist
Arik Einstein (1939-2013), an influential Israeli singer, songwriter, composer and actor
People with Marfan syndrome can still participate in physical activities, but they may need to take certain precautions, such as avoiding contact sports or high-impact activities.
"I live life like everyone else, I just have to be more cautious than most people," said Kolten. "For example, I'm on blood thinners and bleed easily, so I have to avoid things like scrapes, cuts, falls, bruising and anything that will cause bleeding."
Kolten's Life-Long Heart Care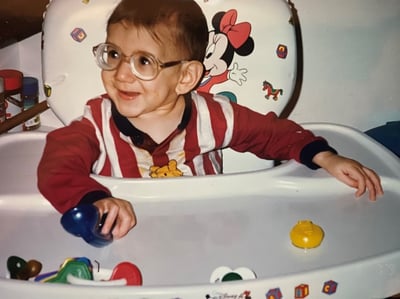 Kolten has dealt with heart conditions resulting from Marfan syndrome since he was a baby. Because his aortic and mitral heart valves weren't working correctly, he wasn't receiving proper blood flow. At 18 months old, he had his first open-heart surgery to replace his mitral valve. He had surgery again at 8 years old to replace his aortic valve. He had one other mitral valve replacement surgery at 9 years old. Two months after this surgery, Roland Zamora, M.D., a pediatric cardiologist with Pediatrix® Cardiology of San Antonio, successfully patched a leak on the valve.
"Each surgery is as scary as the next as we try to remain calm," said Kolten's father. "The doctors and nurses always assured us Kolten was in good hands as we watched them wheel him into the operating room. We distinctly remember that there was a phone in the waiting room, which we always made sure to sit close to. At each surgery, we would receive calls from the nurses updating us on Kolten's progress. These were extremely anxious times as we prayed for a successful surgery and knew recovery would have both good and bad days. After each surgery, it was such a relief to see the surgeon walk into the waiting room with a smile or give a thumbs up, letting us know all went well."
A life-long patient at Pediatrix Cardiology of San Antonio, Kolten views the doctors, nurses and office staff who have managed his long-term care as family. As a young patient, he was under the care of the late Kenneth Bloom, M.D., a pediatric cardiologist and the practice's founder.
"After one of my surgeries, Dr. Bloom's wife, an anesthesiologist, came in to check on me," Kolten recalled. "I was fascinated with her stethoscope, so she gave it to me. I still have it to this day."
Kolten and his family had a special relationship with Dr. Bloom and all his staff. They hold Dr. Bloom and his practice in such high regard that they attended his funeral last year.
"It was such an honor to pay our respects to this wonderful health care provider who we are so grateful for," said Kolten's father. "Dr. Bloom was a wonderful, kind man with a very caring heart. He always made sure Kolten's heart was strong and functioning at its best. We trusted Dr. Bloom to care for our son's cardiology needs and have also trusted the practice's other doctors who have cared for Kolten."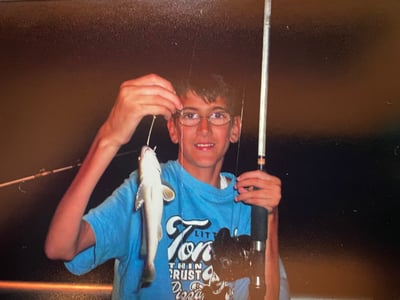 Other cardiologists at Pediatrix Cardiology of San Antonio who have managed Kolten's care include James Schroeder, M.D., Teresa Hospers, M.D., and David Bush, M.D.
Dr. Hospers took over Kolten's care after Dr. Schroeder left the practice. She was instrumental in his care for many years and assisted in some of his surgeries.
"Dr. Hospers had a phenomenal bedside manner and provided exceptional care during and after surgery," said Kolten. "Open-heart surgery is difficult and invasive, and Dr. Hospers made sure I was getting the care I needed. She was attentive during each and every checkup, EKG, ultrasound and all the other fun stuff that comes along with caring for the heart."
Since Dr. Hosper's stepped away from the practice, Kolten's current cardiologist is Dr. Bush. In September 2019, Dr. Bush performed an electrical cardioversion to restore Kolten's heart's rhythm to a normal heartbeat.
Also instrumental to Kolten's heart health is Estee Lopez, R.N., who has been his primary nurse at the practice for the past 20 years. In addition to the care she provides during routine office visits, Estee manages Kolten's international normalized ratio (INR), which measures how long it takes for his blood to clot to ensure he's on the correct dosage of blood thinner medication.
"I have only positive things to say about all the doctors, nurses and staff I've interacted with here," said Kolten. "Once you're in, you're in, and they treat you like family and truly care about your well-being. They continue managing my care as an adult. I am very comfortable with this because they know my history and know how to handle my health care needs."
Living with Marfan Syndrome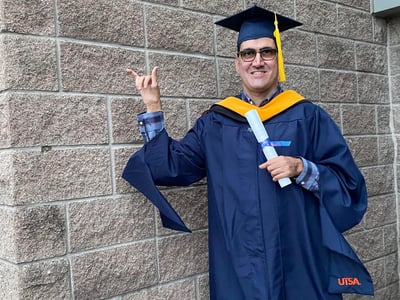 Kolten's condition is more severe than some people with milder cases of Marfan syndrome, but he doesn't let it get in his way of living life to the fullest. After earning a bachelor's degree, he completed a master's program in educational psychology at the University of Texas at San Antonio. He works just like anyone who isn't faced with a medical condition.
"I have to do a little extra each day just to be OK," he said. "Things like taking medication regularly, making sure my INRs are on track and watching my surroundings to avoid bleeding is just part of it."
Always looking for a silver lining, Kolten believes Marfan syndrome has brought him opportunities he would not have otherwise had. When he was 12, the Make-A-Wish Foundation sent him and his entire family to Alaska, where they went on a cruise and toured parts of the state. The mayor of Juneau even gave him a key to the city and had lunch with the family. In addition, the Boy Scouts of America arranged for a fire truck to meet Kolten, an Eagle Scout, and his family at the ship and take them to a helicopter pad for a ride to explore the glaciers. He also met a few scouts and a scout master.
"I'm a big outdoorsman. I love to fish and hunt. I requested the trip to Alaska so I could explore the outdoors," Kolten said. "I was an Eagle Scout then and wanted to meet with the troops in Alaska. They gave me a vest with a lot of cool patches. We also went on some excursions, like a fishing trip and dog sledding.
In addition, Kolten has hunted deer in Mexico, hunted quail and fished in various fishing tournaments at many lakes. He made a model of an MRI machine for the Child Life Department at Methodist Hospital as his Eagle Scout project.
Today, Kolten's heart is stable. To ensure it remains this way, he has a semi-annual checkup with Pediatrix Cardiology of San Antonio to get an echocardiogram and EKG to ensure everything is going well. Every two years, he wears a Holter monitor that records his heart rhythm for 24 hours and gets a CT scan of his heart.
"People say to me, 'I don't know how you do it,'" Kolten said. "And I say, well, I have two choices; I can either go cry in a corner and feel sorry for myself, or I can get up every day and keep living life to the fullest.'"
Pediatrix® Medical Group provides fetal, pediatric and adult congenital heart care in several states. Please visit our cardiology website to learn more and find a location near you.