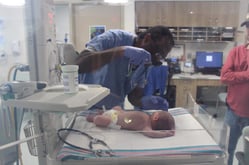 When emergency physicians had difficulty intubating a septic infant, Ade Aderibigbe, MD, a Pediatrix-affiliated neonatologist, quickly stepped in to perform the lifesaving procedure. Dr. Aderibigbe is the hospital's NICU Medical Director. He and his team consider it a privilege to be welcomed into the hospital's emergency department. He sees the Level III NICU as a supportive resource to collaborate in care whenever possible.
In this case, an infant came to the community emergency department with breathing issues. As the infant began crashing, Dr. Aderibigbe was called in for assistance. Critically ill newborns and infants are difficult to treat and require specialized training and equipment. When the emergency department knows a baby is on the way, the NICU team is usually alerted. However, this time Dr. Aderibigbe didn't have advance notice.
Care for A familiar face
"When I walked into the room, I immediately recognized the baby and mother. The infant was born prematurely and a former NICU baby patient of mine," said Dr. Aderibigbe. "I saw myself with two patients, the baby and the mom." Dr. Aderibigbe and his nurses quickly assessed the situation and were able to intubate the baby without any adverse outcomes. "When the baby was stabilized, I checked to see if the mom was ok," said Dr. Aderibigbe. Knowing transfers can take some time, Dr. Aderibigbe contacted Dr. Pat Spafford, Medical Director at Scottish Rite Hospital, which is also a Pediatrix Facility. Dr. Aderibigbe worked with Dr. Spafford and arranged for the infant to be transferred. "I didn't want the mom and baby to wait any longer than they had to. This was a very stressful situation, and I wanted to do everything in my power to support them," said Dr. Aderibigbe.
Tim Paul, MD, said, "The airway was difficult to obtain, Dr. Ade came to the Emergency Department, no questions asked, intubated the patient, and arranged the transfer. He went above and beyond the call of duty."
The Three Cs make all the difference in the world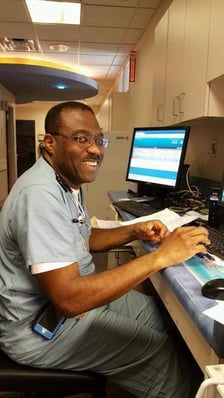 Commitment to the three Cs – Collaboration, Connection, and Compassion – are what makes Dr. Aderibigbe and other Pediatrix-affiliated neonatal physicians stand out. When Dr. Paul reached out to thank Dr. Aderibigbe for his efforts that night, Dr. Aderibigbe said it was heartwarming. "We want to help wherever we can, knowing we have good collaboration with the Emergency Department team is what makes a difference."
Dr. Aderibigbe is active in a statewide group of neonatal providers that gather quarterly for networking and presentations from national neonatology speakers. "Going to these events provides the opportunity to build relationships so that when I make a call about a patient, the person on the other end wants to help because they know me personally." Dr. Aderibigbe is well-known and loved throughout the hospital where he works. He has a reputation for going above and beyond for his community, colleagues, and patients by relying on collaboration, connection, and compassion, and that makes all the difference.
--
Subscribe to the MEDNAX Blog to receive more information about recent news, recognitions clinical outcomes, lessons learned, and best practices.