For Amanda Arciniega and James Finley, parents of previously conjoined twins, 1-year-old AmieLynn and JamieLynn, the last year has been a whirlwind of unknowns, fear, emotions and blessings.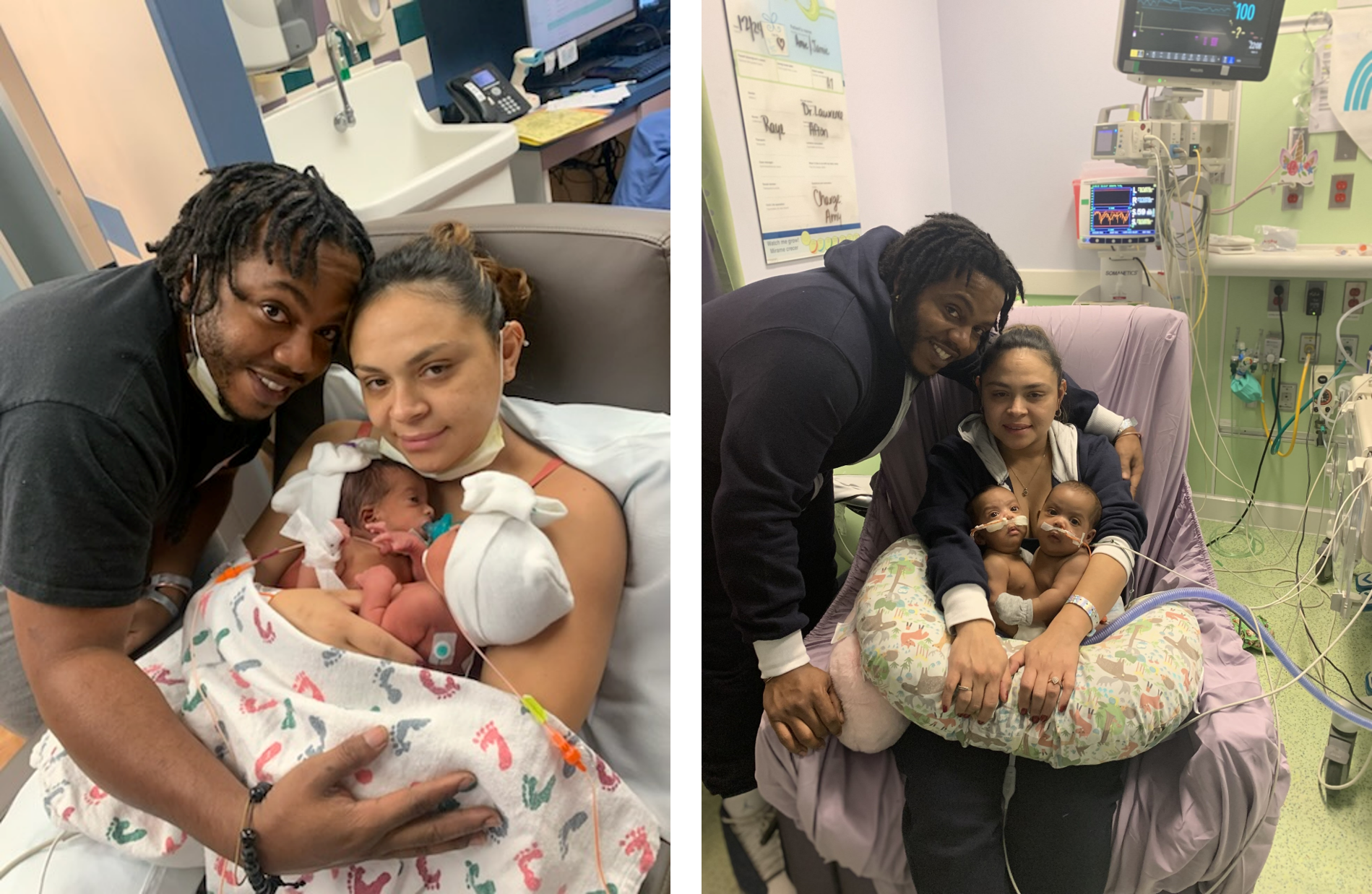 [Photos courtesy of James Finley]
Born Oct. 3, 2022, at Texas Health Fort Worth, Amie and Jamie were joined from their chest to their abdomen, sharing a liver. Upon delivery, they were moved to the hospital's neonatal intensive care unit (NICU), where Pediatrix® Medical Group neonatologists Mary Frances Lynch, M.D., and Chad Barber, M.D., and neonatal nurse practitioners, Yvonne Helland, NNP, and Yvonne Riddle, NNP, were instrumental in providing individualized care for the twins. Under the guidance of Dr. Lynch and Dr. Barber, both nurse practitioners and a select NICU team shared a common goal of ensuring the health and well-being of the infants during the first two months of their lives before transferring them to Cook Children's Medical Center in Fort Worth for their separation surgery.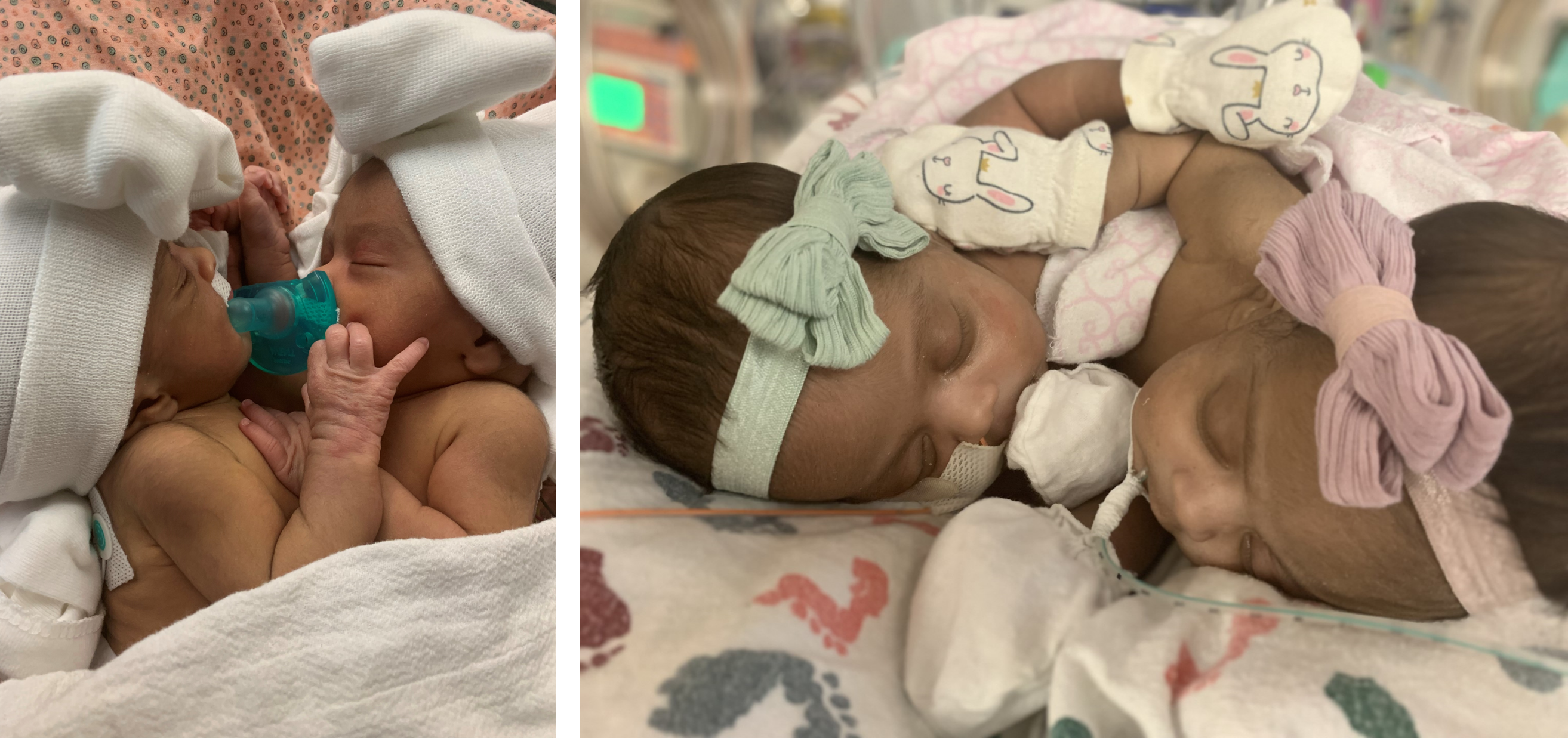 On Jan. 23, 2023, at three months and three weeks old, a team of 25 medical professionals at Cook Children's Medical Center spent 11 hours successfully separating Amie and Jamie. While Dr. Lynch and Dr. Barber managed the care for the babies at both hospitals, Pediatrix neonatal nurse practitioner, Megan Cousin, NNP, and a collaborative team of neonatal specialists, nurses, therapists and various medical professionals provided seamless, ongoing care to the babies at Cook Children's before and after their separation surgery.
"Megan cared for Amie and Jamie with Dr. Barber and me," said Dr. Lynch. "She was often the first point of contact for the family and nursing staff in the weeks leading up to the surgery and then post-surgery until they were discharged. She fell in love with them instantly and was so dedicated to their care and worked with the family and the primary nurses every step of the way. She played an exceptional role throughout their NICU stay."
From Surgery to Discharge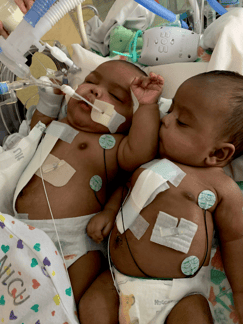 Jamie did quite well following surgery. She was alert and very aware of her surroundings, interested in observing what was going on around her.
"Shortly after surgery and once the babies were back in their room in the NICU, Jamie started realizing something was different," said Dr. Lynch. "She began looking around for her sister and realized she could turn her head both ways, something she couldn't do before. From there, it didn't take her long to assert her independence and begin to enjoy being a singular infant."
Amie's recovery, on the other hand, was vastly different from Jamie's. She required an additional operation to create more space for her heart, diaphragm and lungs. She also received Botox injections in her neck muscles to allow her full range of motion.
Given the recovery differences, Jamie went home a few weeks before Amie.
Going Home, One Twin at a Time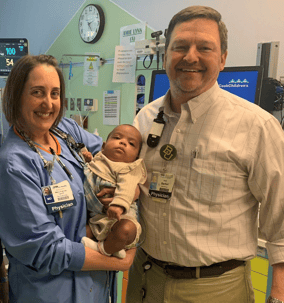 On March 21, nearly two months after their separation surgery, Jamie was able to join her family at home.
"It was bitter-sweet when Jamie went home because we loved and missed her," said Dr. Lynch.
"In addition, it brought additional challenges for the family just getting to take one home and still having another in the NICU," she said. "Thankfully, the way the NICU is set up with single-family rooms, they could bring Jamie up to see Amie. But it was difficult for the family because they never felt like they were in the right place. When they were home with Jamie giving her attention, they weren't at the hospital giving Amie attention. So, it was hard for them not to be able to give both of them their undivided attention."
Dad James agreed that bringing them home separately was difficult.
"I felt sad that Amie had to be up there by herself," he said. "When we brought Jamie up for visits, they were always touching each other's faces. You could tell they were like, 'Hey, I know you!'"
It didn't take long for Amie to reach her milestones and become healthy enough to graduate from the NICU. On April 7, she joined Jamie and the rest of the family at home, but not before a celebratory send-off from the NICU staff.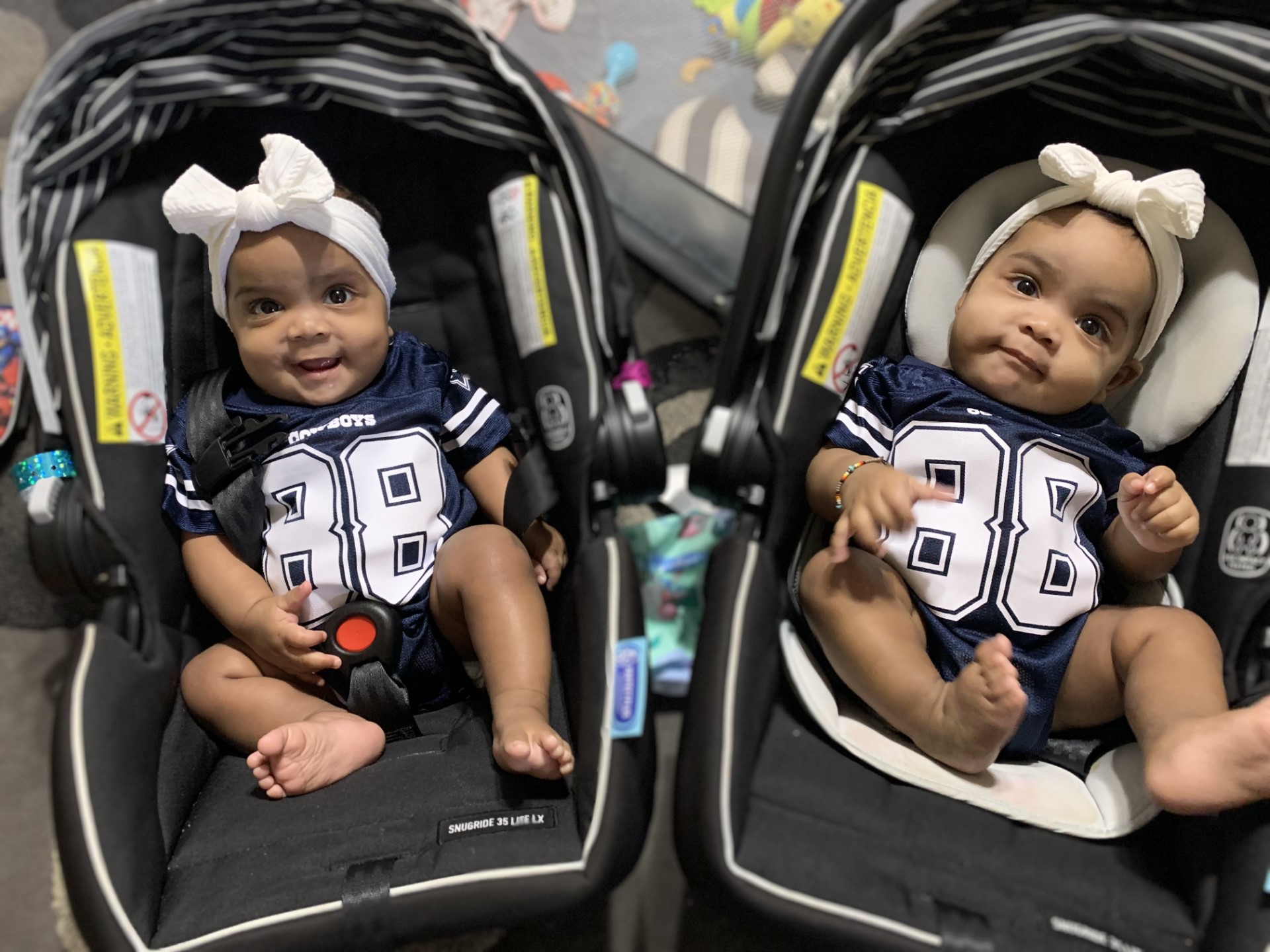 "Everyone was happy when Jamie got to go home because she was doing so well, but then when Amie got discharged, they were like, 'Oh no, Amie is going home, too,'" said James. "But before leaving the hospital, they got to go on wagon rides through the NICU to see everyone and say their goodbyes. And now, whenever we have appointments, we stop by the NICU to show the girls off to everyone."
There's No Place Like Home: Amie and Jamie Make Six and Seven
It's been an eventful year for the Finley family. According to James, "The last year has been incredible. I've never felt like I was special, but this kind of made me feel special," he said with a laugh. "It's been life-changing."
Amie and Jamie have been home with Amanda, James and their three older children for several months now.
"Our three older kids really love the twins," said James. "Our daughter is a big help; she's a great big sister. And it's fun watching our 8-year-old son talk baby talk to them."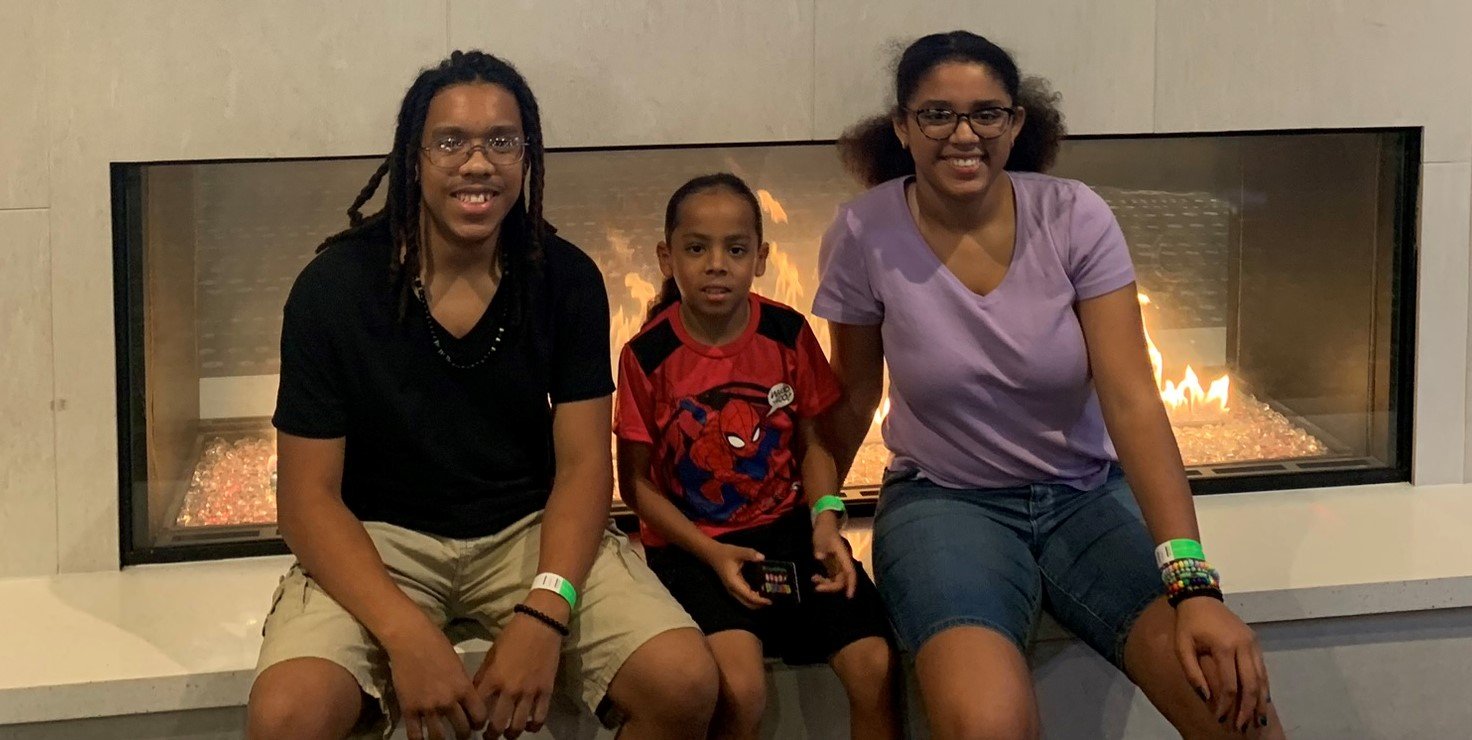 With a soft-spoken, positive tone, James explained that Amie and Jamie are not the only Finley children with unique circumstances. Their 8-year-old brother, James Jr., has sickle cell disease and will eventually need a bone marrow transplant.
"That's one of the factors into having more children because a full-blooded sibling would be a more likely match for bone marrow," he said. "I submitted to Be the Match [a leader in bone marrow transplantation] to see if I could be a match for somebody. A lot of black people don't know about Be the Match and how they have an opportunity to help someone with sickle cell disease. Right now, our son is taking medication, but a bone marrow transplant is supposed to be the 'cure,' so we're hoping for a match whether from one of his siblings or a generous donor."
Despite the Finley family's trials and tribulations, Amanda and James take it all in stride and are just happy to have all their children under one roof.
Milestones and Celebrations
At home, Amie and Jamie haven't let their challenging beginning slow them down. Just as babies who weren't conjoined at birth and didn't have a major surgery or two, the girls have been achieving their developmental milestones with vigor. Jamie was walking at 11 months old, and Amie was right behind her.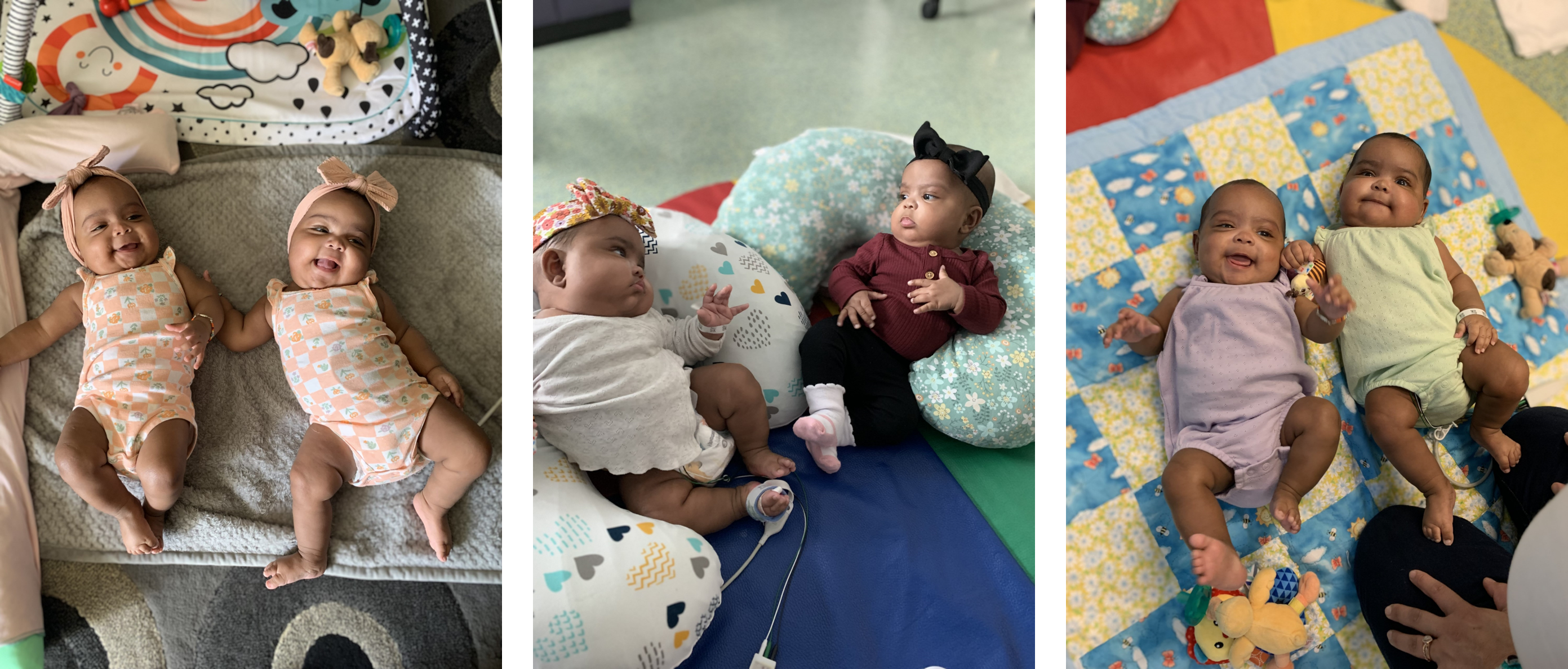 "It's a testament to their family, the therapy staff, the dedication of the nurses who loved on them all the time and the entire NICU team," said Dr. Lynch. "It's surreal, it's a once-in-a-career experience and something I feel so privileged to be a part of."
At the time of this publication, Amie and Jamie will be celebrating their first birthday surrounded by loved ones.
"They love 'Moana,'" James said with a laugh. "So, we'll have a Moana-themed birthday with a lot of family and friends to help celebrate."
As the twins turn 1, Dr. Lynch has a special message for Amie, Jamie and the Finley family.
"I'm so proud of Amie and Jamie and feel so privileged to be part of their early journey," she said. "I can't wait to see what a difference they make in the world, because it's going to be something big!"