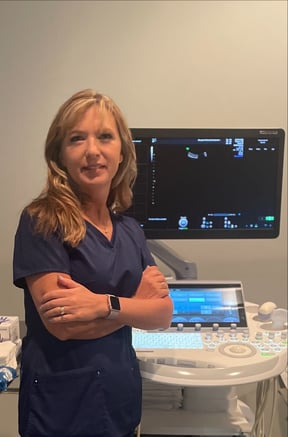 Getting a sonogram is an exciting, happy occasion for most pregnant women. Through this technology, they can glimpse their developing babies and find out if they're having a boy or a girl. It can also be a happy experience for a sonographer, as he or she helps deliver clinical information that expectant parents have been eagerly anticipating.
"I love what I do," said Becky Grove, B.S., RDMS, RDCS, clinical manager and lead sonographer for Perinatal Associates of the Mid-Atlantic in Frederick, Maryland, part of Pediatrix® Medical Group. "Watching babies develop is extremely interesting. I build relationships with parents week after week and share their excitement."
Ultrasound, also called sonography, is an imaging test that uses sound waves to create a picture of organs, tissues and other structures inside the body. It is painless and doesn't use radiation.
Becky has been a perinatal sonogram technician for 22 years, although she didn't follow a straight path to the profession. After earning her bachelor's degree in biological sciences from the University of Maryland, Baltimore County (UMBC), Becky took a job as a medical assistant in an obstetrics practice. There, she learned about ultrasound in general and perinatal ultrasound specifically. Intrigued by a career in the field, she returned to UMBC and 15 months later was certified in diagnostic ultrasound.
Ultrasound Imaging During Pregnancy
During pregnancy, ultrasound is used to view the fetus inside the uterus. It allows your obstetrician-gynecologist (OBGYN) or other health care provider to check your baby's health and development, monitor your pregnancy and detect any issues or defects. Ultrasound is also used during certain pregnancy-related tests, like amniocentesis.
More specifically, a standard ultrasound exam can provide the following information:
The baby's gestational age and estimated due date
The baby's position, movement, breathing and heart rate
An estimate of the baby's size and weight
The amount of amniotic fluid in the uterus
The location of the placenta
The number of babies
The baby's sex
"Perinatal sonographers perform a variety of exams: viability exams when women have just learned they are pregnant, first-trimester screenings to assess risk factors for chromosomal abnormalities, 'tip of the nose to the tip of the toes' anatomy screens and imaging to see the baby move and breathe," Becky explained.
If she finds something concerning, Becky reviews the images with a physician. The physician will explain the findings to parents and discuss next steps, such as genetic counseling. If needed, patients are referred to specialists for advanced care.
Gynecological Ultrasound Imaging
For women who aren't pregnant, ultrasound may be used to visualize the pelvic organs. For example, ultrasound can help:
Assess an ovarian cyst or a uterine fibroid
Look for possible causes of pelvic pain
Look for causes of abnormal uterine bleeding or other menstrual problems
Locate an intrauterine device (IUD)
Diagnose reasons for infertility
Monitor infertility treatments
Ultrasound imaging also may be used to investigate mammography results further, guide breast biopsy procedures and evaluate breast lumps.
Ultrasound Imaging of the Heart
Pediatrix providers also perform ultrasound imaging of the heart, called an echocardiogram. This painless test shows the heart's structure, its parts and how well they work.
Your baby's health care provider may order an echocardiogram to see how effectively his or her heart is pumping and determine if there are problems with the heart's walls or valves or the blood vessels leading to and from the heart. It is the most common test used to diagnose or rule out heart disease in children and monitor those who have already been diagnosed with a heart condition.
"We order echocardiograms for children to follow up on known heart conditions and to evaluate for undiagnosed heart problems," explained Hanoch A. Patt, M.D., MPH, specialty medical officer of Pediatrix Cardiology and co-medical director of Pediatrix Pediatric and Congenital Cardiology Associates of Texas. "Some reasons for an echocardiogram include chest pain with exertion or fainting, abnormal-sounding heart murmurs, a family history of certain cardiac conditions, abnormal screening electrocardiograms, arrhythmias, certain viral illnesses and lots of other things."
Matthew V. Park, M.D., FAAP, FACC, co-director of quality and safety for Pediatrix Cardiology and a pediatric cardiologist with NorthWest Congenital Heart Care in Tacoma, Washington, added, "While there are many reasons why a child may need an echo, Pediatrix follows the guidelines for appropriate use recommended by the American College of Cardiology, American Academy of Pediatrics, American Heart Association and several other organizations. Meeting this criteria is one of several metrics used to demonstrate quality pediatric cardiac care."
Ultrasound Imaging of the Digestive Tract
Gastroenterologists (GI specialists) use ultrasound to view the appendix, liver, gall bladder, pancreas, spleen, kidneys and bladder. Your child may need an ultrasound if he or she is experiencing tummy pain, a swollen tummy, ongoing vomiting or if testing reveals abnormal liver or kidney function.
Ultrasound imaging of the digestive tract can help doctors find or diagnose:
Appendicitis
Kidney stones
Gallbladder stones
Masses such as tumors, cysts or abscesses
Abnormal fluid in the abdomen
Pyloric stenosis, a rare condition in which the opening between the stomach and small intestine narrows, blocking the flow of food
Health care providers also use ultrasound to guide them during procedures such as needle biopsies or catheter insertions.
"The biggest benefit of GI ultrasound is being able to diagnose biliary stones, which are gallstones in the bile duct," said Theodore Stathos, M.D., practice medical director for Pediatrix Gastroenterology of the Rocky Mountains. "In this case, a second procedure performed in the GI lab is required to remove the stones from the common bile duct or the pancreas."
Dr. Stathos can help parents save time and money by providing ultrasound services in his office.
"Offering in-office GI ultrasound is an extreme convenience for our patients' families," he said. "Additionally, ultrasound is often very expensive at a hospital radiology department and there's a separate co-pay to have testing done there. However, if the ultrasound is performed in our office, parents only pay an office visit co-pay."
Dr. Stathos and his colleagues at the practice's six locations in Colorado have partnered with gynecologists to use ultrasound to diagnose problems associated with the liver, gallbladder, pancreas and spleen and the blood vessels attached to those organs. They also can evaluate pelvic organs, such as the ovaries and uterus. In the future, the practice plans to offer ultrasound-guided liver biopsies, which will also save parents the stress and cost of going to a hospital for their child's procedure.
Sadly, not every ultrasound test delivers positive news. Sometimes, an ultrasound reveals a life-threatening birth defect, a potentially cancerous mass or other complex condition that requires intervention.
"As sonographers, we're also here for the patients who don't have good outcomes," Becky said. "Sometimes, I spend the worse day of my patients' lives with them. In that case, I hold their hands and cry with them. Then, at the end of my day, I go home and hug my kids."