From our bedside clinicians to corporate employees, it is a common sentiment in our organization that our juxtaposition of medicine and business has always been a part of our success. The two are better and stronger when together. There can be many headaches in business and Mednax understands that the clinicians want to focus on being at the bedside. We support our clinicians' cause by alleviating administrative burden. Dominic J. Andreano, J.D., could not agree more.
---
Don't have time to read? Listen to the blog here!
---
Dominic's journey
Dominic joined Mednax in 2001 and serves as Executive Vice President, General Counsel and Secretary. Dominic received a Bachelor's in Business Administration focusing on accounting and legal studies from the University of Miami in 1990. Upon graduation, Dominic planned to attend law school but was persuaded by a former legal professor to take a gap year to work. He took a job at a local tax and accounting firm. Over that period, Dominic gained invaluable leadership and business experience and was then advised to get a Master's in Accounting before sitting for the CPA exam. During that time, he realized he wanted to refocus on his original pursuit of a law degree and so he studied for the LSAT while studying for the CPA exam. Although he recalls the grueling schedule, he was proud to have passed the CPA exam while beginning law school. He graduated with his juris doctor degree in 1997 from the University of Miami.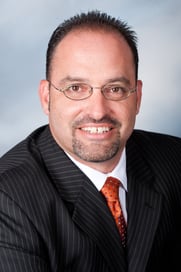 In 1997, Dominic landed a job at a large law firm in Miami and found himself gravitating toward mergers and acquisitions, corporate securities and health care companies. Fast forward a few years, and Dominic accepted a position in the Miami office of another big law firm but found the long commute back to Broward County too heavy of a burden after his first child was born. After an exceptionally long and frustrating car ride in 2001, Dominic decided to pursue an opportunity with Pediatrix™, located just three miles from his home at the time, and has never turned back. Pediatrix was just beginning to grow at a rapid pace when he joined the business development team, and he was instrumental in the early expansion of neonatology practices as well as pediatric cardiology and MFM practices. Dominic is a proud father of two sons and enjoys spending his time outside of work playing tennis and golf with his wife—with the occasional family ski trip mixed in.
The Mednax culture
A strong organizational culture is vital to success. Having been with the company for almost twenty years, Dominic knows Mednax's culture inside and out. His best summation—"this company feels like family." The pandemic has brought challenges to maintaining this familial culture, but Dominic is optimistic that we will continue to figure out ways to adjust and adapt to whatever the new normal becomes post-pandemic.
He recounts the time his wife was pregnant with their second child, and the company was there to support him and his family—even throwing a surprise baby shower attended by Roger Medel, M.D., Pediatrix founder and former CEO. He says the only other successful attempt at a surprise party was when several co-workers got him for his 50th birthday, even managing to get his wife, kids and parents shuttled into the boardroom before entering what he thought was a meeting with Roger. "It was such a special moment and indicative of that family culture that has always been present here at Mednax," he shares.
The nature of our core service lines—women's and children's services—adds further strength to the familial atmosphere. Among clinicians and corporate employees alike, there is a feeling of camaraderie and a shared sense of pride in what we do and the mission it supports. He goes on to say, "We have as great a mission as any company in the world." Dominic notes that it is a large component of what has kept him at Mednax all these years—he's extremely proud of the work Mednax does to take care of the most precious and fragile patients—premature babies—as well as children and high-risk moms.
The people that are the most successful at Mednax are those that have a passion for our mission, but Dominic comments that it's also vital to have a work/life balance. Taking care of yourself and your family makes you a better employee at the end of the day. Dominic was the catalyst to begin our partnership with the American Heart Association (AHA) and American Stroke Association when he co-chaired the first CycleNation event in south Florida a few years ago. Since then, Mednax has expanded its partnership and leverages the materials and knowledge of the AHA to help inform the workforce about healthy habits. Dominic thinks it's critical, especially as a health care company, to focus our efforts on making our co-workers as healthy (both physically and mentally) as possible. The hope is that more health and wellness opportunities will be part of the Mednax offerings as we move forward.
Where business and medicine unite
Dominic believes the future of Mednax is bright and he's excited to be getting back exclusively to its roots of women's and children's services. "The dichotomy we have between physicians and business is the perfect marriage," he states. Having worked with many health care companies before, Dominic understands how valuable this partnership is to succeed and build trust with our current and potential hospital partners. He explains how very few major healthcare companies are still led by clinicians, making our organizational structure unique and a strong reassurance to our hospital partners. "We will always have clinician leaders supported by business experts because we know we are much stronger together," he states.
For those without a medical background, Mednax encourages them to take a tour of a local NICU to meet the clinicians, see our patients and understand the work done every day. "Something like that changes you," Dominic says. "You cannot walk out of a NICU and not feel differently about our company and the lifesaving work our clinicians do. In addition, Dominic mentioned the annual medical director's meetings played a huge role in understanding the various specialties. For him, these meetings were a great opportunity to interact with physicians from all around the country, understand what their field is like in practice and get to know them better as a person. "I am just always in awe of what our clinicians do—and I am extremely proud to support them," he says.
---
If you're interested in supporting our clinicians as they take great care of the patient, every day and in every way™, view our available career opportunities.