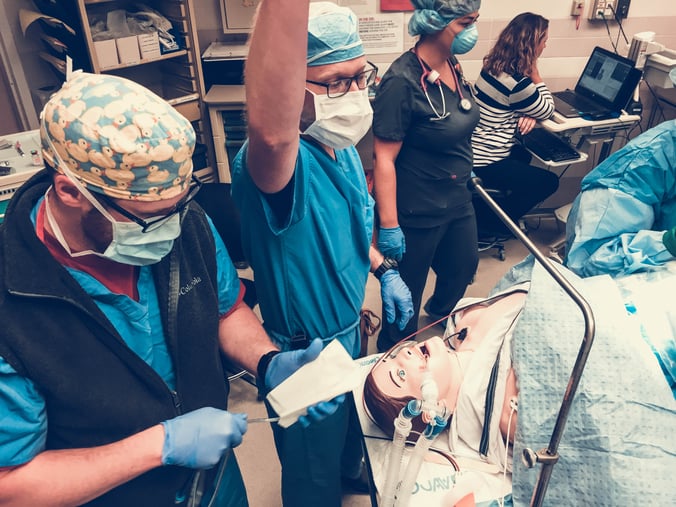 This is the third article in our series in recognition of Patient Safety Awareness Week.
Simulation is a core element of patient safety. Using manikins during staged clinical events, these exercises allow clinicians to work through real-case scenarios in a safe environment with no risk to patients. Clinicians are able to focus on skill assessment, refresh muscle memory and identify areas that may need additional preparation.
MEDNAX established its current Simulation Program in January 2016, and roughly a year later, earned provisional accreditation through December 2019 from the Society for Simulation in Healthcare. MEDNAX's program is one of roughly 87 accredited simulation programs in the United States, and only 100 or so programs worldwide.
"During simulation, we are sharpening skills," said William Enfinger, MEDNAX Simulation Program Technical Specialist. "Our clinicians are professionals who already have the background and experience required to be successful at their jobs. Clinical simulation helps prevent errors through preparation for high-risk, low-volume scenarios. These are the types of complicated cases that a hospital or a clinical team is less likely to encounter on a regular basis. During simulations, our teams can practice for the possibility — because in our experience, such a case eventually comes through the door."
The MEDNAX Simulation Program is currently available for anesthesia, neonatology, pediatric and OB hospitalist service lines, and has plans to expand and build additional partnerships with the organization's various specialties. "We have a vast network of subject matter experts across MEDNAX," said Enfinger. "We are looking for ways to leverage that diverse group and provide even more opportunities to develop clinically appropriate scenarios for our teams and partner institutions."
A commitment to safety

MEDNAX is helping lead patient safety with initiatives such as its anesthesia High Reliability Organization Program (HRO); a commitment that is expanding across all MEDNAX service lines. Simulation is as important to that effort as the HRO elements of reporting and accountability.
Similar to high reliability theory, simulation relies heavily on teamwork and communication. "Honesty, awareness and accepting of responsibility are imperative," said Enfinger. "Our ultimate goal as clinicians is to provide the best care possible to ensure our patients are safe. There is always room for improvement, no matter your skill level."
"Simulation can help teams prepare for the unexpected, but it is also critical for identifying process issues and fine-tuning communication between team members," said Gillian Gonzaba, RN, NNP, BC, LSSBB, Associate Director for HRO and Simulation. "We know from literature published from The Joint Commission that errors in communication are often one of the top root causes of sentinel events. Unlike other procedural errors, which can be improved upon in other settings, it is difficult to improve communication without team training and evaluating team dynamics."
Standing apart from the crowd
It is already a rarity for a national medical group to provide accredited simulation at the corporate level. MEDNAX is poised to serve an even greater role in the future by expanding on-site simulation services and simulation support for MEDNAX-affiliated practices and clinical partners.
The Simulation Program works to customize scenarios for the unique needs of its participants and occurs at the facility of a clinical team. "We come to you," said Enfinger. The programs are streamlined to run through a case, and the exercise is videotaped, which is used for any necessary debriefing afterward. Debriefings can be modified to match the goals of the team, the case and the specialty.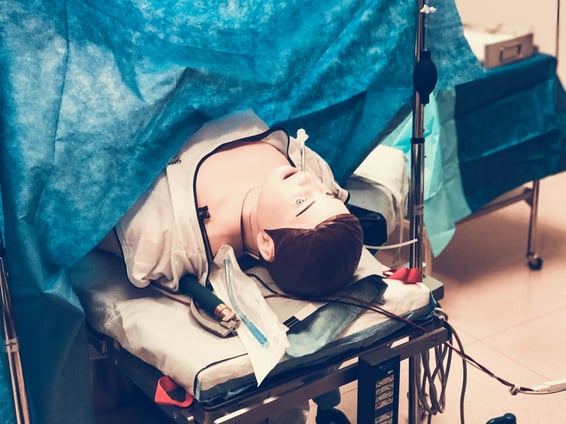 "Especially during the past few years, simulation has gained real traction in the health care environment as an essential tool for patient safety," said Enfinger. It is not uncommon for a medical director to call shortly after a simulation and share how the medical team just encountered a case that mirrored the simulation scenario. "It might have been a unique case, he said, "but thanks to simulation, the team was completely prepared," he said.
"That is the beauty of simulation," said Gonzaba. "It is the ultimate team training exercise. Through these simulation experiences, our providers can perfect their procedural skills, hardwire their muscle memory and analyze how they communicate and work together as a team in a safe environment."
William Enfinger is certified as a Healthcare Simulation Operations Specialist (CHSOS). In 2017, he was named a Distinguished CHEST Educator as a member of the inaugural class of recipients by the American College of Chest Physicians (CHEST). This honor is given for national-level recognition of excellence in continuing medical education.
Gillian Gonzaba RN, NNP, BC, LSSBB, is a quality improvement specialist, a TeamSTEPPS master trainer and a Lean Six Sigma Blackbelt.
Interested in the simulation program?