During his training at Cedars-Sinai Medical Center in Los Angeles, Antoine (Tony) Soliman, M.D., found his calling when a set of extremely preterm infants were admitted into the NICU. Due to complications, one of the twins passed away early on in their stay, and the clinicians were concerned the other might have the same outcome. Dr. Soliman remembers the twins' heartbroken mother telling him and his team to do 'whatever it took' to provide the necessary care for her baby. "When he survived, I remember feeling like a crusader for these little preterm babies. He taught me not to give up—even if a positive outcome doesn't seem possible. He taught me that babies that size can do it!" From that day forward, Dr. Soliman made it his life's mission to provide comfort and care to the tiniest babies.
---
Don't have time to read? Listen to the blog here!
---
The "secret sauce"
After proving instrumental in the success of creating a small baby unit at another hospital, Dr. Soliman was heavily recruited by the Pediatrix team at Miller Children's and Women's Hospital Long Beach. It was exhilarating as an up-and-coming physician to work at such a large NICU with 95 beds and over 1,000 admissions a year and to have the opportunity to lead a team, especially a group as diverse as theirs. "Something I've worked on throughout my career as a leader is figuring how to bring together a group with so many backgrounds," he says. "I like to say we have a 'secret sauce' made of ingredients that make us a wonderful group to work for and work with." The main ingredient? A dedication to their mission of serving the underserved.
Dr. Soliman shares this mission has been, and always will be, their group's primary source of motivation. "We are a very busy NICU—and that can make for long, hard days, but our team knows the value of the work we do, and we wholeheartedly believe in that mission," he says.
The Long Beach community
Dr. Soliman and his team at Pediatrix Medical Group of California practice in Long Beach, Calif., a consistently underserved city in medical care and resources. When researching the area's social determinants of health, the idea that the environment you live in (even down to the number of grocery stores and parks nearby) plays a significant factor in your health, he learned the Long Beach neighborhood ranks in the bottom 5% of the nation. Their hospital faces many health equity issues with their patients and families, including homelessness, little to no prenatal care and education, addicition and lack of insurance coverage leading to untreated health problems. "Within the challenges and constraints of a hospital that isn't well-funded to meet the unique needs of our patient population, we have still been able to bring the right people together to create really novel ideas of how to help our community. I am so proud and thankful to be a part of those efforts," Dr. Soliman says.
Despite the obstacles they face, Dr. Soliman says there is a shared sense of pride and unity felt in the community. "Many of our hospital staff are born and raised in this neighborhood. They are really the true heroes and big proponents of our mission," he says. "I see that every time they go to the ends of the earth to get parents the resources they need. If a mom can't afford to buy a car seat, they will raise the money. If a family suffers a loss, they will pull together the community for support. You can't find that type of dedication everywhere."
About Dr. Soliman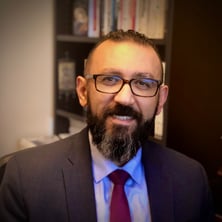 Antoine Soliman, M.D., earned his medical degree from Penn State University in 2000. He completed his residency and neonatology fellowship at Cedars-Sinai Medical Center, a non-profit hospital in Los Angeles. While at Cedars-Sinai, Dr. Soliman joined their faculty and continued research in innate immunity and mechanisms of inflammation in necrotizing enterocolitis. He subsequently moved to Children's Hospital Orange County, where he helped create one of the first small baby units in the country. He joined Pediatrix Medical Group of California at Miller Children's and Women's Hospital Long Beach in 2014 and now serves as their medical director. Outside of work, Dr. Soliman enjoys cooking, gardening and spending time outdoors and with his family.
---
If you'd like to contribute to the quality care provided every day by our clinicians, review our career opportunities, and join us in our mission to Take great care of the patient, every day and in every way.TM