The birth of quadruplets made hospital history for Piedmont Athens Regional Medical Center in Athens, Ga. this summer. Deanna Heath and Rory McGoldrick welcomed four bundles of joy in July—one boy and three girls, two of which are identical twins. The quads were born prematurely at 28 weeks gestation, each weighing between 2 pounds and 2 pounds 15 ounces. They spent the last several months in the NICU under the neonatology team's care up until they began to head home one by one in October.
The quads were conceived naturally, which only occurs in 1 out of 571,787 pregnancies. "In terms of statistics, this is probably the rarest of the rare," said Azif Safarulla, M.D., one of the neonatologists who cared for the babies. "After this experience, I talked to colleagues who had 30-40 years of experience, and they probably came across this once in their career. So, it's safe to say that this is a once-in-a-lifetime experience. It's extremely rare."
Preparing for the delivery and care of four babies at once, a first for the hospital, was an all-hands-on-deck collaboration across multiple departments. "I felt that was where the team at Piedmont really did everything we could to address all those contingencies and get everything in place," said Dr. Safarulla.
---
Can't find time to read? Listen instead!
---
The "quad squad"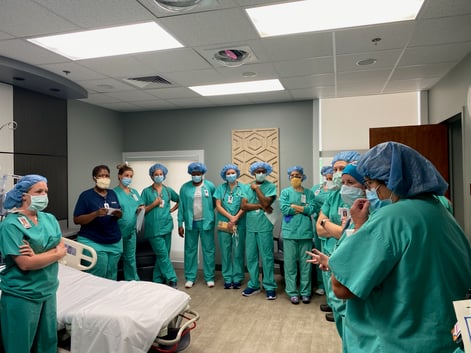 As preparations were underway for the babies' arrival, the multidisciplinary care team affectionately became known as the "quad squad." The team leads were instrumental in reaching out to nursing, respiratory and other clinical staff to request volunteers to be on standby for the delivery. The nursing team had an overwhelming response. "That list was full—there was never going to be a problem to find nurses who were willing to come in," said Alison Finnerty, NNP. "We had one nurse who drove probably close to an hour to get here for the delivery." The team also worked diligently to prep the delivery area in advance. "There was a delivery room right outside the operating room, and they reserved that and set it up as another stabilization area," explained Alison. "So, they had all the beds out and labeled, and they had the plan worked out of who was going where, and which babies were going to w
hich rooms. It was like a well-oiled machine."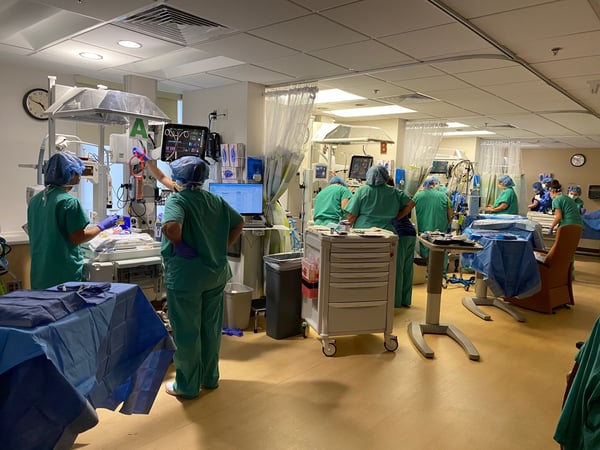 Homeward bound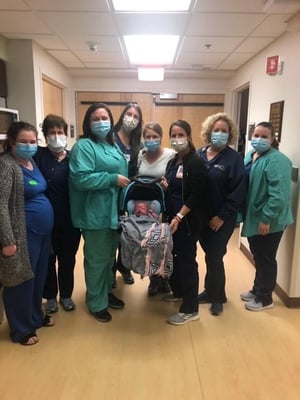 During their time in the NICU, the babies were busy working on their "baby jobs," as Alison says—maintaining their body temperature, breathing on their own, eating from a bottle and gaining weight—in preparation for their discharge. All four babies were exclusively fed maternal breast milk for at least the first month—an incredible accomplishment for mom Deanna.
Breast milk has special benefits for babies who are born prematurely. It's easier to digest than commercial infant formula—especially for premature babies with smaller, less mature digestive tracts. Breast milk also boosts babies' immune systems and lowers the risk of asthma, allergies, ear infections and other illnesses. Mom continues to meet the quads' nutrition needs, which will greatly benefit their growth and development.
The quads began to discharge one at a time on Oct. 6—right around their original due date—and by Nov. 6, all the babies were home just in time for their first Thanksgiving celebration as a family of six. The discharge period was emotional for the care team as well as the family, who was leaving the safety, security and support of the NICU. However, Dr. Safarulla feels that the quads going home separately was a blessing in disguise for the parents. "It gave them the chance to gradually expand their ability to take care of the babies one by one as opposed to having all four at once," he said. The nursing staff also helped prepare them for having all four babies at home by creating a schedule that outlined recommended feeding, pumping and diapering times, as well as dedicated breaks for mom. They also encouraged the parents to enlist the help of close family and friends (while cautioning them to have any outside help take extra safety precautions given COVID-19 as well as cold and flu season).
Teamwork enhances patient care
As the neonatology team reflects on the memorable experience of caring for the quads, they speak to the collaborative effort of the entire care team that contributed to the successful outcome. "I think the coolest part was the birth and the delivery since it was something that we'd never done before," said Alison. "Watching that all come together—I think we had about a two hour window from when we got the call that they were coming to when they were born—and I feel like if you had been an outsider looking in, you would not have guessed that that was the first time we had delivered quads. Everyone was working together from different specialties, from labor and delivery to NICU and respiratory. I think everyone left and thought, 'that was so cool.'" In a word, Dr. Safarulla describes it as 'synergy.' "We had a team huddle with OB and NICU prior to the delivery to go over a game plan, and that was very cool—teamwork at its best," he said. "Where one thing ended, the other person jumped in and picked up with no beat to skip—everybody had each other's back."
Learn more about our neonatal services >