Pediatrix Medical Group of North Carolina in Charlotte recently expanded its neonatal physician services at Novant Health to include the Forsyth Medical Center location in Winston-Salem. The group has partnered with Novant Health for more than 18 years and continues to build on its longstanding relationship with the health system—a true testament to the value the team brings to Novant hospitals in caring for its tiniest patients.
---
Don't have time to read? Listen to the blog below!
About the Practice
Led by Practice Medical Director Jay Kothadia, M.D., Pediatrix Medical Group of North Carolina has experienced significant growth since it joined the Mednax family in 2002, when it was comprised of only four neonatologists. Today, the team has grown to include 13 neonatologists, 11 pediatric nurse practitioners and three family nurse practitioners who work in close partnership with more than 40 neonatal nurse practitioners at Novant Health. Dr. Kothadia credits the practice's continued expansion to the excellent team of providers. The group provides physician services at Novant Health's Level IV neonatal intensive care unit (NICU) at Presbyterian Medical Center, Level III NICU at Forsyth Medical Center and Level II special care nurseries at Huntersville Medical Center and Matthews Medical Center. The neonatologists are skilled at providing advanced respiratory support, including bubble CPAP (continuous positive airway pressure) and high-frequency ventilation, presurgical and postsurgical care, nutritional support and therapeutic hypothermia (total body cooling). The team also oversees well baby coverage in the newborn nursery at these locations as well as Mint Hill Medical Center. Last year, the group cared for more than 12,000 infants across all five locations.
"Dr. Kothadia was very instrumental in the Forsyth Medical Center opportunity, and that's because of the great relationship he has with hospital administration in the Charlotte market and the great patient care he provides," said Michelle Ferber, market director. "The company becoming fully centered on women's and children's care is really appreciated through the community and the hospital partnerships—there is a renewed sense of excitement."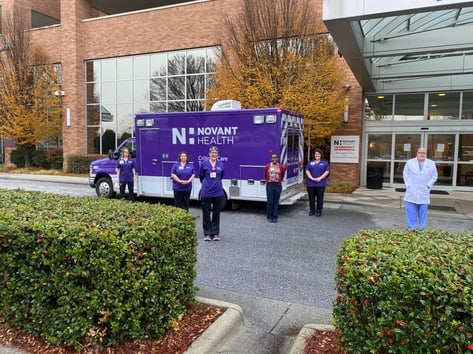 The Winston-Salem Location
The Winston-Salem location is staffed by Art Payne, M.D., who serves as medical director, and Shelly-Ann Dakarai, M.D. The group is also recruiting for a third neonatologist. Dr. Payne joined Pediatrix following fellowship in 1995 and was with the group in various locations for more than eight years. He recently rejoined the company to lead Forsyth. "I'm glad to be back home," he said. "It's a great place to work and a great place to be, and I'm quite grateful for it." Dr. Payne is helping lead the implementation of Family Integrated Care (FICare) at Forsyth, a model that integrates families as partners in the NICU care team and supports family-centered care.
This will include designated rooms that mom can both labor and recover in as well as the unique opportunity for families to extend their stay and have the clinicians teach them how to best care for their fragile babies. The group also actively participates in state perinatal quality collaboratives to combat Neonatal Abstinence Syndrome. "We're trying to get the obstetrical side of it going this year so we can evaluate those mothers earlier, get them into treatment and hopefully decrease the length of stay for these infants," said Dr. Payne.
Dr. Kothadia, who has personally worked with Novant for more than 26 years, reflects on what has contributed to the strong partnership and sustained growth. "Being a great partner with the health system, providing great care to the patients and having the best outcomes—our patient satisfaction surveys have always been excellent," he said. "They have come to us every time they wanted to grow the service—that's a good sign."
Welcome to the Mednax family, Novant Health Forsyth Medical Center! We look forward to continued success in providing the highest quality neonatal care to the greater Charlotte community and beyond.
---
Learn more about our comprehensive scope of neonatal services.