Pediatrix Medical Group of Florida has expanded its partnership with Memorial Healthcare System with the recent addition of neonatology services at Joe DiMaggio Children's Hospital (JDCH), Memorial Hospital West and Memorial Hospital Miramar. The practice has a longstanding relationship with Memorial that began more than 15 years ago as a provider of pediatric cardiology services, which now includes the region's only accredited adult congenital heart disease program, and has since grown to include pediatric craniofacial surgery and pediatric urology services. Today, the group offers a multidisciplinary continuum of care across the Memorial Healthcare System for children and families in South Florida.
---
Don't have time to read? Listen to the blog here!
---
Comprised of 17 neonatologists and 22 nurse practitioners, the team provides acute neonatal care at Joe DiMaggio's Level IV, 84-bed unit, led by medical director Doron Kahn, M.D.; Memorial West's Level II, 20-bed unit, led by medical director Sharell Bindom, M.D.; and Memorial Miramar's Level II, 16-bed unit, led by medical director Cristian Esquer, M.D. The group's passion for improving outcomes through innovative quality and safety initiatives is further enhanced by each individual clinician's specialized area of focus, which is an essential component of how the team works to deliver the highest level of care.

Positive outcomes
Pediatrix Medical Group of Florida consistently performs in the top quartile for key performance benchmarking measures in national networks such as the Vermont Oxford Network (VON), including survival rates for micro preemies. "I believe that our outcomes set us apart," said Dr. Kahn. "We report the same data as some of the best institutions in the world. They're reporting survival at 22 weeks of 50% and 23 weeks of 70%, and that's exactly where we are." Survival at 24 and 25 weeks is similarly high, at 85% and 93%, respectively.
The group also spearheads several safety and quality improvement projects, scoring top points for lower than predicted rates of central line-associated blood stream infections (CLABSI), unplanned extubation (UE) and chronic lung disease—all of which are common adverse events in the NICU that increase the cost of care, length of stay and risk of morbidity:
The CLABSI rate has remained consistently low at less than 0.5% per 1,000 line days for three years running.
The UE rate has been below 0.5% per 100 vent days for the last year.
The chronic lung disease rate is 50% lower than would be expected from a similar institution.
As part of its commitment to data-driven improvement, Pediatrix Medical Group of Florida collaborates with an extensive network of national and regional partners to benchmark their practices and outcomes. The JDCH unit is the only Florida NICU and non-academic institution that is part of the bronchopulmonary dysplasia (BPD) collaborative, which serves as a catalyst for improving the life-long outcomes of babies who develop severe BPD, a chronic lung disease. With the support of Claire Barrette, senior clinical quality analyst, the JDCH nurses are leaders in the nursing component of this national collaborative. In addition, the group is part of VON, with nearly all outcomes in the top quartile of their national data; the Florida Neonatal Neurologic Network (FN3); and the Florida Perinatal Quality Collaborative (FPQC), with outcomes in the top quartile of state data
.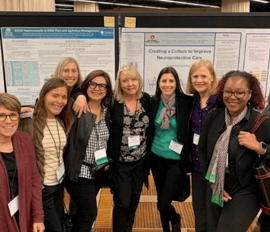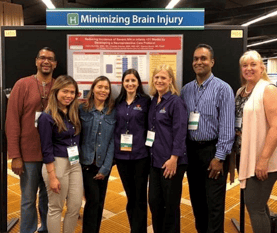 Additionally, the group aims to attain a top 50 ranking in U.S. News & World Report's annual list of Best Hospitals for Neonatology.
Specialized care
Another unique component of the practice is that each member of the team has a specialized area of focus, which makes for a comprehensive program of cutting-edge services. "None of us are just clinicians," said Dr. Kahn. "We all have areas of focus to make sure that we keep up with the latest medicine." The NICU committees are composed of neonatologists, neonatal nurse practitioners, physician assistants and other members of the NICU team, including bedside and nursing leaders, quality specialists, respiratory therapists, speech/occupational/physical therapy, social workers and discharge coordinators.
BPD program – Bruce Schulman, M.D., BPD medical director, created the program and was instrumental in joining the national BPD collaborative in 2015. Being the only BPD-collaborative-associated NICU in Florida allows the group to lead the way when it comes to the management of respiratory, nutrition, developmental and other facets of the baby with severe chronic lung disease.
Nutrition – Mona Shehab, M.D., and Vicki Johnston, M.D., lead the group's nutrition committee, bringing the highest evidence-based medicine into the unit to ensure that the team is practicing within standardized guidelines and all proper benchmarks are in place. Yasser Al-Jebawi, M.D., also supports this committee with BPD-focused nutrition initiatives.
Hemodynamic bedside ultrasonography – Estela Pina, M.D., and Mesfin Afework, M.D., lead this training initiative with the goal of developing a comprehensive hemodynamic program.
Transport – Pablo Valencia, M.D., runs the unit's very active transport program offering ambulance, helicopter and fixed wing transportation of neonates being referred from outside institutions for specialized care.
Neuro-ICU – Gianina Davila, M.D., oversees the care of patients with life-threatening neurological problems in collaboration with the neurology team, with a focus on intraventricular hemorrhage (IVH) in the very premature baby and hypoxic-ischemic encephalopathy (HIE) in the term baby.
International outreach – Lester McIntyre, M.D., who serves as practice medical director, and Flavio A. Soliz, M.D., lead the group's international outreach program. Drs. McIntyre and Soliz helped develop the neonatology fellowship program for The University of The West Indies in Jamaica about seven years ago and have since had their fellows round with the team for one month during their training, which is underwritten by a local non-profit. Dr. Soliz lectures extensively and hosts annual conferences in Latin America. He is a founding member of Babies without Borders.
Quality and safety – Dr. Kahn leads the quality and safety initiatives, ensuring that all care is practiced according to the latest evidence-based standards and goals are set that parallel the best outcomes in the country.
The group is actively recruiting for a Division Chief of Neonatology position as well as two neonatologists with experience in the management of a BPD or Hemodynamic program.
Sustained growth
As Drs. Kahn and McIntyre reflect on the successful implementation of Memorial's multi-unit neonatology program, they attribute it all to their team. "We've been able to attract high-quality candidates who do really good work and who are very comfortable in this setting, and I think that has been one of the reasons that has led to really minimal turnover in the practice over the past few years," said Dr. McIntyre. Dr. Kahn also credits the ongoing innovation of care. "We're very innovative—mostly under the leadership of our previous medical director, Dr. Schulman, who now runs our BPD program," said Dr. Kahn. "We've brought in all the latest technology and the latest medicine into our unit. As soon as cooling became an accepted practice for HIE, we were right on board with those early studies and making sure that we had that technology in our unit. As soon as nitric oxide and the oscillator were available, we brought them into our unit. Every time there is a new, innovative aspect to neonatology, we're right on top of it and making sure that we are practicing with the highest level and most current evidence possible. Additionally, we function well as a team, internally with the neonatologists and advanced practice practitioners, and also with other members of the NICU where we collaborate on all projects with our nursing and respiratory therapist colleagues."
---
Learn more about our comprehensive scope of pediatric services.