COVID-19 has left no part of a hospital untouched. While elective surgeries were halted, personal protective equipment (PPE) became essential and family members were kept out of many facilities, one thing remained the same — babies were still being born. Even through a pandemic, hearing screeners across the Pediatrix Newborn Hearing Screen Program (NHSP) stepped up and stepped into hospital rooms to help prevent babies with the potential for hearing loss from slipping through the cracks.
"It was important to keep screening babies because the risk for hearing loss still exists," said Julie Wolbach, newborn hearing screen coordinator for St. Joseph's Hospital and Presbyterian/St. Luke's Medical Center in Denver, Colorado. Previously working in schools, Julie had just begun her career as a newborn hearing screen coordinator in January 2020. Due to COVID-19, hearing screeners such as Julie now work behind PPE for safety, but they did not falter.
"Any baby not screened is a baby that could potentially have hearing loss," said Wolbach. "If we do not screen a baby due to COVID, we could lose an opportunity for early identification." She also recognized that parents might be less willing to return to a hospital for a screen if it was not completed prior to discharge. When Wolbach was asked to screen COVID-positive babies, she refused to deny those newborns their access to care.
Working between the two hospital sites, Wolbach entered St. Joseph's from an employee entrance, conscious of the task ahead of her. Her temperature was taken and then a woman at the checkpoint offered her a paper heart. "An 8-year-old girl had made hundreds of paper hearts for all of the St. Joseph's health care workers," said Wolbach. "I took one and instantly gained courage. I knew families needed the service I was going to provide."
Keeping a program on track
In Savannah, Georgia, at Memorial Health University Medical Center, this sentiment was the same. The newborn hearing screen team had powered through challenges before COVID. From November 2019 through January 2020, two hearing screeners supported the hearing screen program at this hospital, while the team's third screener and site coordinator, Cindy Cannon, recovered from a medical issue. Shortly after Cannon's return, COVID-19 was spreading through the U.S., and personal reasons led her colleagues to take leave.
With two hearing screen devices at the site, the team hired a fourth screener to work alongside Cannon. In addition to screening newborns, Cannon manages the site's statistics and follow-up and referral paperwork. She also trains hearing screeners, including her new colleague. But soon this team member developed a fever. Thankfully not COVID-positive, this team member still required a two-week quarantine. Cannon — now the sole screener — rose to the occasion.
"I take pride in my site," said Cannon. "It was important to continue providing this critical care for families and making sure there were no interruptions in our program." During the month of April, the site completed 229 screens. Cannon screened 217 of those babies.
Working varied hours for weeks straight to ensure no baby was missed, Cannon balanced the needs of her patients with the needs of her own self-care and management of that still recovering injury. "My knees and back would often ache later, but while I'm with my families, I keep a positive attitude," she said.
"Cindy embodies our organization's mission of take great care of the patient, every day and in every way," said Bradley Buckler, MD, medical director and neonatologist for Pediatrix Medical Group of Georgia. "She does this not only as a coordinator for our hearing screen program, but also as a valuable member of our team." For Dr. Buckler — who understands how detrimental it is for a newborn to forego a hearing screen — Cannon's sacrifice further showcased her commitment to these babies.
A "new normal"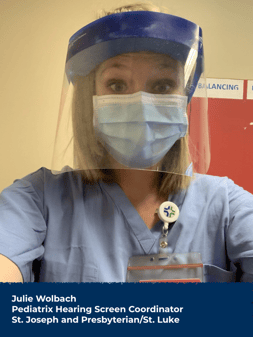 "Screening newborns during a pandemic is certainly a challenge," said Susan Weinger, who oversees Cannon as a NHSP regional coordinator. She acknowledged operating a hearing screen program in this unprecedented time is complicated due to the sense of fear of contraction the virus as frontline workers. It requires teaching and reteaching the process to safely put on and remove PPE. It means interacting with families using appropriate social distancing while maintaining positivity in an uncertain environment.
"There have obviously been a lot of changes and unexpected bumps in the road," said Wolbach, who is not swayed from her new profession. "When I began my degree in audiology and speech language sciences over 10 years ago, I pictured myself being a hearing screener. Working with the families has been a joy, and I gain such purpose and meaning from it."