Mednax® is thrilled to announce that it will adopt Pediatrix® as the brand for its affiliated practices across the country. The shift to Pediatrix, which includes a refreshed visual identity and logo, enables us to bring together under a single overarching brand the clinical expertise of our more than 4,700 talented specialists and reflects our core focus on providing the highest-quality services across the continuum of care for women, babies and children.
Honoring our legacy and mission
Established more than 40 years ago as a physician-led organization, the Pediatrix name is widely recognized in many markets where we care for patients. By reinforcing the Pediatrix brand in well-known markets and reintroducing it in lesser-known areas, we are establishing a clear link between Pediatrix's highly regarded expertise and the unique specialties and services our practices offer. The refreshed Pediatrix brand emphasizes that women's, babies' and children's health is at the heart of all we do, centered on our long-standing mission to Take great care of the patient, every day and in every way™.
Reflecting who we are today
Today, we offer our essential, often life-saving care to some of the most vulnerable patients –high-risk expectant mothers, premature and critically ill newborns and sick children – in the areas of obstetrics, maternal-fetal medicine, neonatology and 18 pediatric subspecialties. This very specialized care is enhanced by significant investments in research, education, quality-improvement and safety initiatives – more than $25 million in the past five years alone – to help foster the highest quality patient care. Establishing one powerful brand across our national family of practices unifies this broad range of clinical expertise under a consistent identity to build greater awareness of the myriad of services we provide among current and future patients, our employees and prospective talent as well as partners and other constituents. We are excited to make it even easier and more seamless for patients and their caregivers to find a Pediatrix provider on their care journey.
Brand rollout and beyond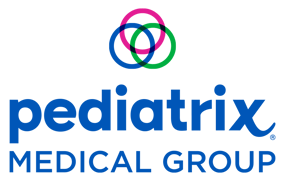 As part of the rebranding initiative, we have created a fresh look and feel that better represents what we do and who we serve. The new Pediatrix logo consists of three intersecting rings symbolizing our commitment to compassionate, coordinated and clinically excellent care for women (pink), babies (blue) and children (green).
The brand rollout has kicked off with new Pediatrix-branded social media handles: Facebook, Instagram, LinkedIn and Twitter. It will continue through 2022 and beyond with a new website offering enhanced features and digital resources for patient families. The new logo will be implemented in a phased approach across practices and partner facilities.
While our look has changed, what will always remain consistent is our unwavering dedication to providing the highest quality, specialized patient care. We hope you share our excitement about the future, and we look forward to serving you and your family today and for years to come.