When Sophia MacKay learned she was pregnant with her first child, Dash, she and her husband were ecstatic. Her OBGYN, however, was cautious. Sophia had been born with a congenital heart defect, and it was unclear what effect the condition would have on her pregnancy. To ensure the best outcome, three Pediatrix® Medical Group physicians collaborated to provide a continuum of care for both mother and baby.
Sophia was born with three small ventricular septal defects, holes between the heart's left and right ventricles. She had the condition regularly monitored when she lived in California but stopped seeing a cardiologist when she moved to Florida.
"I was always aware that I had a heart condition, but it had never really been an issue. I've always felt fine," Sophia explained.
Sophia's OBGYN referred her to Craig Kalter, M.D., a maternal-fetal medicine (MFM) specialist with Florida Perinatal Associates, part of Pediatrix Medical Group. He saw her 20 weeks into her pregnancy, and while tests didn't reveal anything out of the ordinary, he referred Sophia to pediatric cardiologist Suying Lam Barriga, M.D., with Pediatrix Cardiology Associates and Tampa Bay Adult Congenital Heart Center (PCA-TBACHC) for further testing.
"When I see a patient with a congenital cardiac abnormality, I think it's important to make sure nothing has changed in their overall cardiac status," said Dr. Kalter. "We also want to assess the baby since babies have a higher risk of developing a congenital defect when a parent has one."
Dr. Lam agrees. "One crucial aspect of managing adult congenital heart disease cases is providing comprehensive support for patients during pregnancy," she said. "Thanks to remarkable advancements in medicine, individuals who were previously discouraged from starting a family are now increasingly considered capable of conceiving and, in many cases, successfully carrying their pregnancies to full term."
Dr. Lam spoke with Sophia's former cardiologist, reviewed her medical records and conducted a comprehensive evaluation. An echocardiogram didn't reveal any residual holes in Sophia's heart, but it did indicate a slight enlargement of her heart. During pregnancy, the heart undergoes several physiological changes, and mild enlargement can be observed in certain individuals. While this enlargement is temporary in most cases, in certain instances, it can indicate a more severe condition, such as peripartum cardiomyopathy.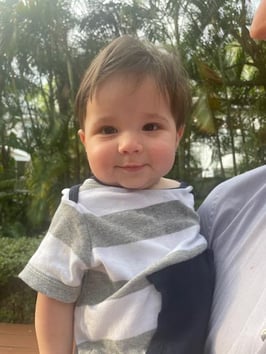 "Pregnancy is a susceptible time for women," Dr. Lam explained. "We must ensure the well-being of both the baby and the mother. Our goal is to prevent the onset of heart failure, arrhythmia or any other complications in the mother, thereby enabling her to carry the baby to full term successfully. It is crucial for patients with congenital heart conditions to receive specialized fetal cardiology care as well."
Throughout her pregnancy, Sophia consciously made healthy lifestyle decisions to maximize her chances of the best outcome for her and Dash. She limited her caffeine intake and remained physically active. Dr. Lam monitored her heart size and function regularly with serial echocardiograms throughout the pregnancy.
During the second trimester, though, a fetal echocardiogram revealed a persistently elevated fetal heart rate. As a result, Sophia was referred to J. Blaine John, M.D., a pediatric cardiologist who practices alongside Dr. Lam at PCA-TBACHC. Dr. John regularly conducted surveillance echocardiograms of Dash's heart at two-week intervals. Despite the continued presence of a fast fetal heart rate, Dr. John, fortunately, did not find any structural or functional abnormalities in Dash's heart.
To further ensure Dash's well-being, Sophia's fetal cardiology team also taught her to monitor the fetal heart rate with daily home-based Doppler readings. These were electronically transmitted directly to Dr. Lam and Dr. John's team for review for the remainder of the pregnancy.
"I spoke with a cardiac nurse in Dr. Lam's office every day," said Sophia. "It was so comforting to know that everything was OK."
"One of the remarkable aspects of our practice is our ability to provide continuous care for patients from fetal life all the way through adulthood," said Dr. Lam. "We cater to individuals of all ages and possess expertise in managing various cardiac concerns related to congenital heart disease. Our practice is dedicated to a wide range of specialties, including adult congenital care, arrhythmias, fetal cardiology and interventional cardiology."
Sophia gave birth to Dash via C-section at a level III hospital with pediatric cardiology services. He wore a cardiac monitor for a short period after he was born. He will turn a year old on Aug. 13 and continues to have his heart rate checked.
"It was great to have all of our cardiologists in one place," said Sophia. "Everyone was thorough. I'd rather have extra monitoring and know nothing's wrong with him than have something be wrong and not know it."
"Sophia and Dash are a great example of how Pediatrix physicians in multiple specialties can work together to achieve a good outcome with minimum inconvenience to the patient," Dr. Lam added.
"My OB was so impressed with the heart team at Pediatrix. She had never seen that level of coordination before," said Sophia. "San Francisco has incredible hospitals, but this was better."