Most people shy away from challenges, but not Jake Van Parys. As the Senior Manager of Practice Integration, Jake is responsible for helping manage organizational change at Pediatrix® Medical Group. The demanding role has many moving parts – and that's just what Jake likes best about it.
"We connect the dots when there is a change in the organization, whether it be welcoming and integrating a new practice, transitioning a practice out of the organization or supporting a change in process or culture," explained Jake. "Every practice is different, so there's a lot of information to unpack about how each change will impact the organization. It's mentally stimulating, very challenging and requires a lot of problem-solving, and that's part of what gets me out of bed every day."
---
Don't have time to read? Listen to the blog here!
---
A closer look at practice integration
The practice integration department works with all divisions and departments in Pediatrix to ensure a consistent approach to onboarding new medical practices. The department helps new clinicians and employees navigate corporate systems and understand the Pediatrix culture, business customs, policies and procedures.
Jake and his coworkers work together to brainstorm ideas, solve problems and communicate changes to ensure a successful go-live for incoming practices. This requires producing and disseminating educational materials, facilitating weekly status calls and acting as a conduit between back-office staff and operational leaders so practices have the support and resources they need to run smoothly.
While the department focuses the bulk of its efforts on acquisitions and organic growth initiatives, it is also involved with other business changes, such as disintegrations (closing a unit, hospital or practice), divestitures, joint ventures, corporate implementation projects and practice consolidations or splits.
"There is a lot of activity at Pediatrix, and practice integration is at the forefront of most of it," he said. "Joining our company can be a big adjustment for a practice. Practices worry that they will lose their autonomy. Integration helps the practice understand that we are strengthening and supporting their existing framework and ideologies. We're dedicated to helping these practices navigate the waters and get the support they need. We roll up our sleeves and work through any issues directly with them."
How it started – and how it's going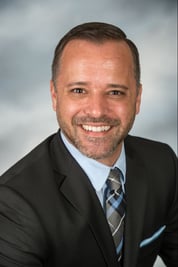 Jake was a real estate paralegal before joining Pediatrix eight years ago as a practice integration coordinator. Since then, he has taken on expanded roles and additional responsibilities as he has risen through the ranks.
When he's not at work, Jake enjoys mountain biking and spending time with his 9-year-old daughter. And while his job often requires facilitating meetings and presenting to groups, Jake said his coworkers would be shocked to know how much he dislikes public speaking.
"Even though 75% of my job involves speaking and hosting meetings, I still get very nervous," he said.
A look ahead
When asked what he'd say to a practice that's thinking about joining Pediatrix, Jake said, "If you're ready to be part of a bigger family, a bigger footprint, a group that touches so many lives across the nation, we can help. Because of our size, we can offer practices more resources, collaboration and support than going it alone. You'll be surrounded by many people dedicated to helping you reach your goals."
When it comes to the future of the company, Jake said the outlook is bright. "I'm excited about the changes that are coming and what lies ahead for us as a company," he said. "We're in the position to do big things."
---
Learn more about corporate careers at Pediatrix.