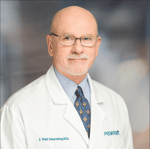 It's often been said that there's nothing more important than your family … unless your job involves caring for someone else's family, and then the lines become blurred.
Todd Scharnberg, M.D., can relate. He has devoted more than 40 years of his life caring for babies in the neonatal intensive care unit (NICU) while raising his own family. He will retire at the end of the month, but not before sharing some of his incredible journey as a neonatologist.
A neonatologist in the making
Following undergraduate school at Rice University, Dr. Scharnberg attended medical school and completed his pediatric residency and neonatal/perinatal fellowship at Baylor College of Medicine in Houston.
His story of becoming a neonatologist began during his pediatric residency. He knew he wanted to care for ailing patients in a hospital setting rather than an office, and he was passionate about completing fellowship training in a subspecialty field. At that time, however, there weren't many formal training programs for hospital-based physicians.
"Back then, the only formal training program to take care of intensive care patients in the hospital was in the NICU," said Dr. Scharnberg. "I really loved it in the NICU. My mentors and professors were wonderful, and I really enjoyed the work, so that's what steered me down that path."
During training, some of his experiences caring for the tiniest, sickest babies helped tip the scales in his ultimate decision to pursue a life-long career in neonatology.
"I will always remember a tiny, tiny baby in Houston during my training," he said. "At that time, in the 1970s, she really should not have survived. She was so tiny and had terrible problems. Everything that could have gone wrong went wrong. A fellow trainee and I ended up taking care of this baby for months and, to our surprise, she pulled through all her difficulties and went home doing well. That experience solidified my decision to become a neonatologist."

Life in the NICU
After fellowship training, Dr. Scharnberg spent three years on the faculty at Baylor College of Medicine as an assistant professor in pediatrics and was co-director of the nurseries at Houston's Jefferson Davis Hospital, which delivered 10,000 to 12,000 babies a year.
His passion for clinical, hands-on patient care, however, far outweighed his desire to do research, so he began exploring his options. When an opportunity presented itself at a private practice in Austin, he relocated, and he has been there ever since, caring for thousands of NICU babies throughout his career.
"Caring for these little babies is one aspect of the job," said Dr. Scharnberg. "They have families who are going through one of the most stressful times of their lives. We have an obligation to involve them in every facet of their baby's health care and educate them, console them and show them compassion and empathy so they have strength to face the situation. One of the greatest joys of this job has been building relationships with the families of our patients."
In 1998, the practice partnered with Pediatrix® Medical Group, and Dr. Scharnberg became the NICU team's medical director. In that role, he was responsible for staffing the NICU with highly skilled professionals, ensuring everyone had what they needed to take the best care of their patients and doing what he could to make things better for patients, their families and the NICU staff.
"A major benefit of joining Pediatrix was all the support with administrative and accounting tasks, which freed us to do what we really love, and that's taking care of patients," said Dr. Scharnberg. "Then, there's the company's Center for Research, Education, Quality and Safety program; quality-improvement initiatives; having access to internationally known subspecialists who are available to give us advice; and opportunities for continuing education. It's been a great relationship and a pleasure, and we've never looked back."

Balancing two families
The NICU is unique, and there's not another area in medicine like it. From neonatologists, nurse practitioners and respiratory therapists to nurses and other NICU staff, it takes a very close-knit group and a special breed of people to work with these vulnerable babies.
"One of the things that has made my career enjoyable and memorable are the people I've gotten to work with," said Dr. Scharnberg. "The NICU draws a special type of person. In my experience, all the people have been caring, compassionate and very competent. We all have a special love for babies and watching them survive, grow and develop and go home with their families. I can't imagine a better group to have been with than my group here in Austin. For many years, I spent more time with them than with my own family. In essence, they are my second family."
Dr. Scharnberg believes he could not have had the career he's had without the support of his wife, Betty, and their two sons, Will and Jack. As is the case with many medical professionals, he spent a lot of evenings, weekends and holidays away from his family so he could care for patients. Therefore, many holidays were celebrated with his family on different days.
"I think my family enjoyed that well enough because they knew I was doing something very important," he said. "So, it just became part of our family life, and they got used to me not always being around."
When his boys were young, Dr. Scharnberg enrolled in the executive program at the University of Texas in Austin to earn his Master of Business Administration degree. He recalls it being a challenging time that probably impacted his family the most because he continued working full time as the medical director of the group and taking care of patients.
"At some point, you realize how important it is to balance your career and your personal life," he said. "It's not always easy to manage, but it is possible."

What's next?
Retirement for Dr. Scharnberg doesn't mean completely walking away from medicine. He plans to become more involved in the Texas Medical Association to help protect and advance medicine.
"The legislative process is something I've always enjoyed, and I'd like to advocate on behalf of women and children to ensure they have access to the best medical care," he said. "On a personal front, I want to travel, cook, read, play golf and do all the things people dream of doing when they retire."