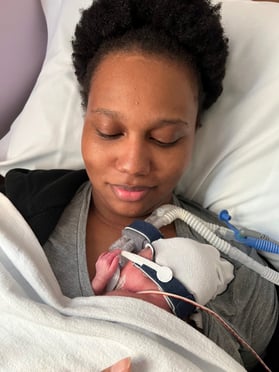 Sometimes, the adage "defying the odds" is a considerable understatement. Such is the case for Le'Lani Bryant, who, on Oct. 4, 2022, was born 13 weeks early, weighing 1 pound, 3 ounces. About 97% of babies born at 27 weeks gestation with no significant complications survive.
However, Le'Lani's odds were stacked against her because she had a heart condition called dextro-transposition of the great arteries (d-TGA), discovered during a sonogram when her mom was 16 weeks pregnant. Le'Lani's two main arteries that carry blood out of the heart — the main pulmonary artery and the aorta — were reversed.
With Le'Lani's condition, oxygen-poor blood from her body would enter the heart. Rather than going to the lungs for oxygen, her blood bypassed the lungs and carried the oxygen-poor blood back to her body. As a result, she wasn't receiving the oxygen-rich blood necessary to survive.
More than 50% of babies born with d-TGA will die within the first month of life if left untreated, and 90% won't survive the first year without medical intervention. Therefore, without surgery to switch the arteries (arterial switch surgery), Le'Lani had zero chance of surviving.
Add to that Le'Lani's extremely low birth weight and gestational age, and a hole between the lower chambers of her heart, called a ventricular septal defect, and her outcome was bleak.
Where it all Began
The journey began for Le'Lani when her mom, Jasmine Matthews, struggled with severe preeclampsia, which causes high blood pressure in pregnant women. With her symptoms worsening, Jasmine went to the Ascension Providence Hospital emergency department in Waco, Texas. Doctors warned that Jasmine could die from her condition if they didn't deliver the baby that day.
"I've had preeclampsia with my other two pregnancies, but this was different," said Jasmine. "This time, I couldn't breathe, and when I was told I could actually die, I knew it was serious."
Because the hospital wasn't equipped to handle an extremely premature baby with a major heart condition, Jasmine was flown to Austin's Ascension Seton Medical Center, where she delivered her baby via Cesarean section. Le'Lani was then transferred to Dell Children's Medical Center and admitted to the neonatal intensive care unit (NICU).
"Le'Lani was in critical condition and had numerous significant problems that had to be managed immediately," said John Loyd, M.D., MPH, neonatologist and specialty medical officer at Pediatrix® Neonatology of Texas and chief of neonatology at Dell Children's Medical Center. "It was vital to stabilize her and prepare her for open-heart surgery."
In the coming days, Le'Lani's core care team, comprising the NICU and cardiology teams, respiratory therapists, nutritionists and numerous other specialists, worked tirelessly toward this goal.
Open-Heart Surgery at Eight Days Old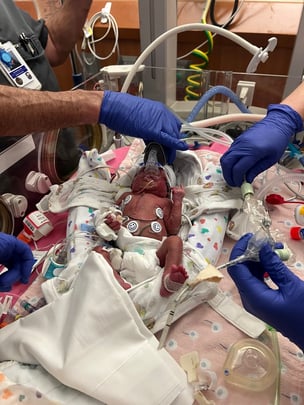 Le'Lani was on blood pressure medicines and a breathing machine and receiving intravenous nutrition, among other treatments and care, but her lack of rich oxygen in her blood became a progressive challenge for her.
"At a week old, the team had a decision to make," said Dr. Loyd. "It was becoming clear that the oxygen in her blood was not sufficient to sustain her for a long period. Led by Charles Fraser Jr., M.D., head of the Texas Center for Pediatric and Congenital Heart Disease, the team concluded that the best chance for Le'Lani, though extremely risky for many reasons, was to move forward with the full corrective procedure."
Le'Lani had a strong care team on her side. The planning meeting before her surgery involved about 20 medical professionals who discussed her preoperative, intraoperative and postoperative plan.
"We went over every detail minute-by-minute to ensure everyone knew exactly what to do to give Le'Lani the best possible chance of having a successful operation," said Hanoch Patt, M.D., MPH, pediatric cardiology specialty medical director and co-medical director of Pediatrix | Pediatric and Congenital Cardiology Associates of Texas and cardiology chief of staff at Dell Children's Medical Center. "That involved cardiac surgeons, cardiologists, neonatologists, respiratory therapists, anesthesiologists, perfusionists and nurse practitioners and nurses from the NICU and cardiovascular ICU. It was quite inspiring to see all these people working together to come up with a game plan that would work for her."
When she was eight days old, Le'Lani underwent open-heart surgery, with only a 50% chance of survival. With a wrist the size of an adult's pinky finger and tiny arteries that could only be measured in submillimeters, this was the second arterial switch operation for transposition of the great arteries Dr. Fraser had performed on a baby this small.
Putting Le'Lani's situation into perspective, in a statement to the Austin-American Statesman, Dr. Fraser said he's "not aware of any other cases of babies this small having this operation."
Le'Lani's surgery was a success, thanks to the expertise and intense preparations of numerous medical professionals working on her behalf.
"We're all fortunate to be able to be part of something so unusual, and it really speaks to the amazing team we have that can provide this level of care to everyone in need," said Dr. Patt.
A successful arterial switch procedure represented one aspect of Le'Lani's critical care needs. Her road to recovery would be long.
The Road to Recovery
During the next several days, Le'Lani was cared for in the cardiovascular intensive care unit (CVICU) by several team members who prepared for her surgery and numerous others, including assigned neonatologists who would stay with her 24/7.
"The CVICU focuses on preoperative and postoperative management of infants with heart disease," said Dr. Loyd. "Because Le'Lani was extremely small, some of her care was out of their scope of expertise. Therefore, we designated neonatologists to stay in her room around the clock and participate with the CVICU team that cared for her."
When it became clear that Le'Lani's prematurity issues were becoming more challenging, she returned to the NICU. She was still on a breathing machine and medicines to support her blood pressure and blood flow to her lungs. In addition, the neonatologists, nurse practitioners and nurses at her bedside focused on managing other critical aspects of her care, such as providing nutrition through central IV lines.
Gradually, Le'Lani was taken off the medications, the breathing machine and the IV nutrition. She was growing and thriving, but she would still require months of neonatal intensive care. Two-and-a-half months after surgery, she was growing well, weighing about 6 pounds.
"About 10 weeks post-surgery, we were still providing some breathing support for her through her nose to help keep her lungs open, she was getting a little bit of supplementary oxygen and then she was getting all of her nutrition into her stomach with a little tube through her nose," said Dr. Loyd. "But she was growing nicely."
Today, Le'Lani is still in the NICU, but she's growing and thriving. She weighs more than 8 pounds and has successfully gone through another heart procedure to expand some narrowing where the arteries were switched and repair the ventricular septal defect.
A Culture of Collaboration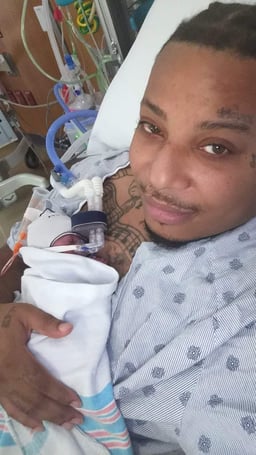 When managing the care needs of highly complex patients like Le'Lani, collaboration among numerous medical teams and professionals is paramount. Every action by every person must align with the overall care plan.
"This kind of collaboration is evidenced every day when a team of 40 or more medical professionals comes together every morning to discuss every single patient and their unique care needs," said Dr. Patt. "We already have an excellent track record of that level of collaboration, which enabled us to immediately spring into action on this extremely unique, unprecedented case and give Le'Lani the best possible care and outcome. When she was born, there was a much greater chance of her not making it than surviving and thriving. It simply wouldn't have been possible without our multidisciplinary, collaborative approach to practicing medicine."
For Le'Lani, every person in every role has been vital to her ability to survive and continue developing.
"Our wonderful nurse practitioners and nurses are so essential and such a central part of our teams at the bedsides of our most vulnerable patients every day and night, making sure they get the best possible care 24/7," said Dr. Loyd.
Le'Lani's parents and family echo Dr. Loyd's sentiments about her care teams.
"The care Le'Lani and our family has received is great all the way around," said Jasmine. "I'm grateful for everyone at the hospital who has helped us get to where we are today and who are still helping us as Le'Lani grows, gets healthier and prepares to come home."