In the United States, between 10% and 15% of newborns require special care in the neonatal intensive care unit (NICU). Collectively caring for more than 5,350 neonates daily in more than 385 NICU facilities across the country, Pediatrix® Medical Group, part of the Mednax® family, employs over 2,300 neonatologists and advanced practice providers. In addition, caring for the tiniest, most fragile patients also requires 24/7 care from numerous NICU professionals and support staff. As the well-known adage states, "It takes a village."
In honor of NICU Awareness Month, join us on a trip down memory lane as we share a few of our favorite NICU stories from the past year.
---
Don't have time to read? Listen to the blog here!
---
Roy's Journey
Newborn baby Roy had a standard, expected delivery. However, before being discharged, he was diagnosed with Hirschsprung's disease, which affects the large intestine. As a result, Roy would undergo several corrective surgeries and an extended stay in the NICU. At the end of his 118-day journey, Roy's parents finally got to take him home.
They were so appreciative of the neonatologists, surgeons and neonatal professionals who helped restore Roy's health while also helping them through this difficult time that they produced a thank you video and presented it to the NICU team at St. Rose Dominican Hospital in Henderson, Nevada.
Hirschsprung's disease is rare, with fewer than 200,000 cases in the United States per year. This potentially life-threatening illness is more common in male babies and requires urgent medical attention.
One boy and three girls, two of which are identical twins, were born at 28 weeks gestation at Piedmont Athens Regional Medical Center in Athens, Georgia, in July 2020. Each weighed between 2 pounds and 2 pounds, 15 ounces. The quads were conceived naturally, which occurs in one of 571,787 pregnancies.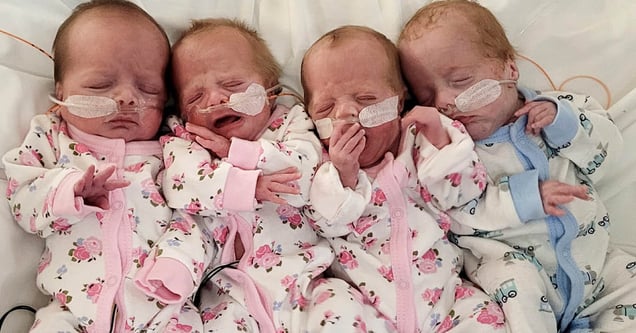 "In terms of statistics, this is probably the rarest of the rare," said Azif Safarulla, M.D., one of the neonatologists who cared for the babies. "After this experience, I talked to colleagues who had 30 to 40 years of experience, and they probably came across this once in their career. So, it's safe to say that this is a once-in-a-lifetime experience. It's extremely rare."
Delivered by a multidisciplinary team known as "the quad squad," the preterm neonates were discharged from the hospital one at a time, three to four months post-delivery.
In August 2020, the second set of all-girl quintuplets recorded in the United States were born at 28 weeks gestation via C-section at Odessa Regional Medical Center in Odessa, Texas. Under the care of the hospital's NICU team, the baby girls started heading home nearly three months later as each one reached the necessary developmental milestones.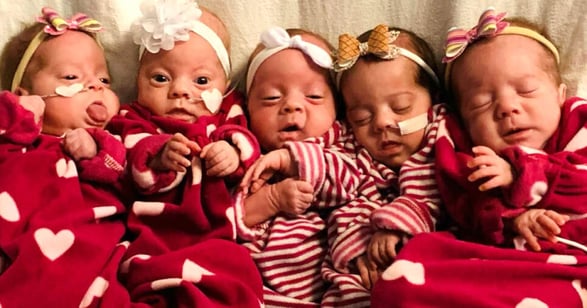 "The natural occurrence of quintuplets is one in 45 million to 60 million pregnancies," said Sanjay Patel, M.D., the hospital's practice medical director and neonatologist. Though, as more families experience infertility and turn to assisted reproductive technology, such as in-vitro fertilization, multiple births are on the rise.
As with the first all-girl quints born in the United States in 2015, this set was conceived via intrauterine insemination.
Update: The Rodriguez quintuplets (pictured below with their older sister) celebrated their first birthdays in August 2021.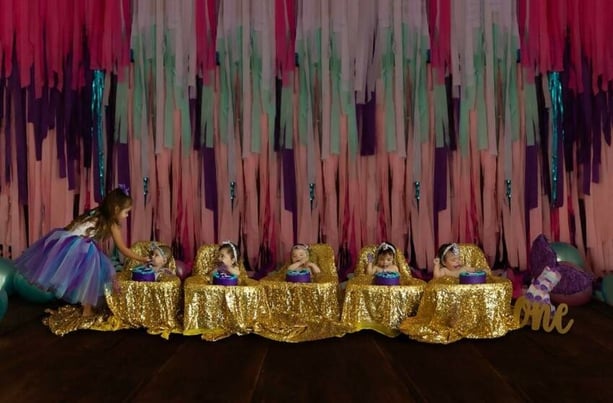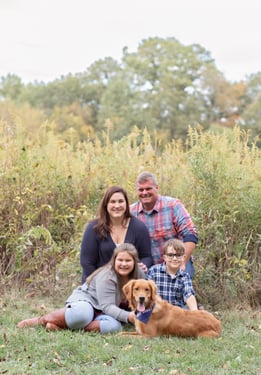 Nine weeks before she was expected to give birth to her son, Amanda Graf, M.D., and her husband flew to their annual Memorial Day weekend getaway in Ohio, where they would spend the holiday with family. Dr. Graf's sister and sister-in-law happened to be expecting babies as well. In a surprise turn of events, baby Andrew, who they knew was missing his right hand, decided to make an early arrival.
Dr. Graf was transported to a nearby hospital and then, due to complications, was transferred to a larger facility in Dayton. After a few days, she ended up having an emergency C-section. "Dr. Tami Samiec, the doctor who was on call that night, saved my son's life," said Dr. Graf. "She resuscitated him, and I will forever be grateful."
Once baby Andrew was stable, he was transported to a NICU closer to the family's Colorado home. Following his birth, Dr. Graf finished her fellowship training and later joined Pediatrix® Medical Group of Ohio as a neonatologist.
Fast forward 10 years. "My son came into this world fighting," said Dr. Graf. "Despite having a visible physical difference, he is the happiest, most independent, empathetic and creative person I have ever known. He doesn't view his limb difference as a limitation. He never feels sorry for himself and is always willing to help other people — he is such an inspiration for me."
---
Want to read more of our neonatal intensive care stories? Check out our other related articles.