Kiersten Williams, M.D., medical director of the hospitalist program at Presbyterian St. Luke's Hospital in Denver, Colorado, has been practicing obstetrics and gynecology (OBGYN) since 2002. An OBGYN hospitalist since 2015, Dr. Williams offers her advice to those considering a career in the field.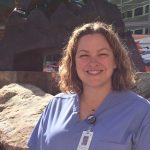 "This job is much different than working in an office, which for me has been a good thing," she explained. "As an OBGYN hospitalist, you don't always have control over how things flow at the hospital, but because you have a set schedule, you have a lot more work/life balance."
It's this balance, she said, that allows her and her husband – also a physician – to attend their children's extracurricular activities. It's also important to balance work and leisure time with sleep, she said.
"My best piece of advice is to protect your sleep," said Dr. Williams, who graduated from the University of California-Davis before attending Eastern Virginia Medical School. "It's something I struggled with because I felt guilty sleeping when I had time off. But you have to be able to say to people, 'I need to go home and sleep.'"
Finding your first OBGYN hospitalist job
When weighing your employment options, she recommends asking questions about the volume of patients the practice sees and the number of procedures they perform. Hospitals require OBGYN hospitalists to perform a specific number of procedures, such as hysterectomies, ectopic pregnancy surgeries and ruptured cyst removals, each year.
"Sometimes it's challenging to keep your procedure numbers up," she explained. "A cushy, slow-paced job may sound great, but without enough volume, it's difficult to keep your skills sharp. As a result, you may need to work a second job just to keep your operating room numbers up."
In addition, the types of cases an OBGYN hospitalist program sees can vary. For example, Dr. Williams works at four sites. Two sites care for more high-risk obstetrics patients than gynecology patients, while the other two sites primarily see gynecologic cases, many of which come through the emergency department. It's important to choose a position that has the case-mix you desire.
---
Find more information about OBGYN careers at Pediatrix®: