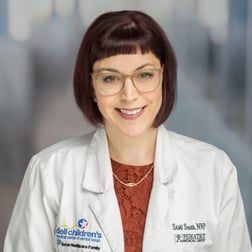 From a young age, Samantha Smith, NNP-BC, APRN, RN, knew the career she ultimately wanted for herself. She was excited and invigorated by spending time volunteering in her local hospital. Even the hospital smells invoked a feeling of belonging. Beginning with restocking shelves in a small NICU gave her the exposure to know her heart was leading her down the right path. Her move from volunteer to clinical care began with obtaining a degree in phlebotomy. From there, she was able to tailor her specific career goals to a focus on work with moms and babies, knowing she enjoyed the NICU and caring for families. She initially worked as a bedside nurse while going to school full time to become a nurse practitioner. In 2007, Samantha began working at Seton Medical Center and was certain she had found a second home.
Care starts with communication
The group of MEDNAX clinicians working at Seton went above and beyond to help Samantha grow. There was a strong level of accountability among the group since most people stay there until they retire. Samantha jests that if there is ever an opening with her group, you better get it because you'll never want to leave. There is always an open, honest flow of communication across the entire care team. Educational support is a strong focus. The team works together on evidenced based reviews and research and develops protocols for new team members. Daily rounds extend beyond the NICU, with collaboration including the full care team, dietary, and pharmacy. The practice group cultivates a family environment that lends itself to growth without fear of failure. The strong support system is important for every day, but critical on the hard days.
Care for families first
Even on the most difficult days, Samantha knows her priority is caring for the families and their babies. There may be shadows of darkness, but the littlest patients will always shine brightest. Remaining positive and strong for patients is essential. It's also important because in the NICU, clinicians support and care for the patient's family as well. Samantha's seen success in this through the number of parents who delivered with the practice due to a high-risk first pregnancy and also chose to return for their future births. It comes down to what Samantha says her practice does best. Of course, they are top-notch on the medical side, but she lists their chief skills as "communication, lots of family support, and love," things which you're not taught in school but are key to outstanding NICU care. Families come in at what is likely one of the hardest times in their lives, and they have different levels of need. The NICU nurse practitioners do their best to give the families what they need in that moment.
Care for her own family
Samantha knows first-hand what it's like to receive the care she gives daily; her own twins went through her unit when they were born at 34 weeks. As her children have grown, changed, and thrived, so has her career. She's learned to balance time between both, even shifting some of her work focus to the academic side. Samantha says, "A lot of the time, there's not just clinical responsibilities." She's a part of documentation committees and quality improvement projects, which fills up her "nerd" side but is less physically draining. MEDNAX supports a healthy work/life balance through retreats that encourage feedback to better the organization. Samantha notes the company is also sensitive to the need for mental health support in a stigma-free way and often sends emails and communication that champion positive well-being. What works best to bring balance to her own life is keeping a positive focus and knowing that at the end of a hard day, there is always a reward, even if it's a bowl of ice cream.
Care that pays it forward
Samantha prides herself on mentoring others. Knowing the difference that early exposure to the hospital setting had for her, for others interested in a clinical career path Samantha recommends starting with volunteer work. She participates in career days with the graduate nursing program at Seton and encourages people to find a mentor – all things to ultimately help determine and reinforce they are on the right path. Further, she suggests new students find areas they are most interested in or get involved in any way they can to get started. She encourages her mentees to be aggressive in the pursuit of their passion. Building strong, positive relationships makes all the difference, for patient care, for our communities and for the future of healthcare.
---
Can't make time to read? Listen to the audio instead!