Giving birth to a baby with congenital heart disease or having a child with an acquired heart condition takes a toll on parents. Above all else, they want to know that their child will receive the best care from highly experienced pediatric heart specialists.
The word "care," however, has many different meanings. At Pediatrix® Cardiology of San Antonio, the term not only means providing high-quality medical care for patients but caring for them physically, mentally and emotionally. Moreover, every family's well-being is equally important.
The fear, anxiety and stress families of children with cardiac conditions experience are often overwhelming. They need to know their children are in the capable hands of medical professionals who care for them in all aspects of their long-term journey.
Setting a High Bar
The late Kenneth Bloom, M.D., founder of Pediatrix Cardiology of San Antonio, set an extremely high bar decades ago by pouring his heart and soul into caring for his patients and their families. His knowledge and expertise were always complemented by unwavering family-centered, compassionate care. In honor of Dr. Bloom, who passed away last November, his colleagues created the Dr. Kenneth R. Bloom Excellence Award for Patient Care, designed for employees who exemplify the spirit of care that Dr. Bloom represented.
A standard set by Dr. Bloom, the award signifies the practice's commitment to always putting patients and their families first. It reiterates to everyone in the practice that quality care transcends the medical aspects of patient treatment; it means developing long-term relationships with patients and their families built on compassion, dedication and trust.
And the Winner Is
Estee Lopez, R.N., who worked alongside Dr. Bloom for the last nine years of her 20-year career at the practice, received the first annual award during the practice's 2022 Christmas party. It was an emotional time, given the recent passing of Dr. Bloom. Colleagues gave speeches in his honor, expressing how much patients, families and San Antonio's medical community cherished him. They described Dr. Bloom as "the most dedicated physician they've ever met, who worked tirelessly to care for patients."
As partygoers listened, it was the first time many of them learned about the Dr. Kenneth R. Bloom Excellence Award for Patient Care.
"I had no idea there was such an award," explained Estee Lopez, R.N. "During our Christmas party, people were talking about Dr. Bloom's legacy, which led up to an award being given out. I knew nothing about it until that moment. It was such a surprise that when they said they were going to give an annual award, I got my camera out because I wanted to take pictures of the first recipient."
Estee was extremely surprised and very emotional. She was caught off guard, never expecting the award they spoke of to be intended for her.
"I was taken aback because I had such a special relationship with Dr. Bloom and there were several speeches given by employees before the award was given out, so it was an emotional time because he had just passed the month before and it was very fresh," she said. "I was very surprised and grateful for the recognition."
Relationships: Vital to Quality Patient Care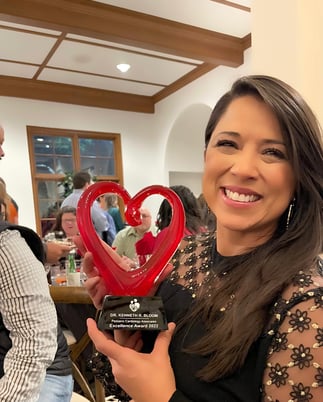 One of many reasons Estee received the award is for consistently going above and beyond for patients. She's been seeing patients since they were born; many have reached adulthood, and she still cares for them.
"I strive to develop meaningful relationships with every patient and their family; we're in this together for the long term," she explained. "I always want to be open and available to address their needs in a timely manner. I want patients and their families to have the time they need to receive proper care. I want them to know they are my top priority and I'm here for them."
Professional relationships are also critical for patient care to ensure everyone is aligned with the unique needs of every patient. From the front desk employees who greet and check in patients and their families to the nurses, advanced practitioners and cardiologists, strong relationships and collaboration are essential.
"I've learned so much from the wonderful physicians I work with; not only Dr. Bloom but every physician here," said Estee. "It's been valuable for me as a nurse to have a rapport with the physicians and staff so I can give patients my best."
Going Above and Beyond
Pediatrix Cardiology of San Antonio bases its care model on Pediatrix Medical Group's mission — to Take great care of the patient, every day and in every wayTM. According to Estee, going above and beyond for every patient and their family is critical because they are going through some of the most difficult times in their lives.
Often, heart conditions are ongoing, sometimes for the rest of a patient's life. Establishing relationships is vital for families who need to be able to completely trust and rely on their care team.
"To have somebody trust you to provide the quality care their loved ones need is why it's essential to go above and beyond every time I'm with a patient," Estee explained. "My job is to make sure parents and patients are taken care of, and the relationships we build with these families are something I'll always treasure."
Giving awards at Pediatrix isn't taken lightly. They are a powerful endorsement for our top performers who consistently and continually strive to be their best. Awards recognize our frontline professionals for surpassing patient expectations and persistently learning ways to improve patient care.
"To win an award, especially the first one in Dr. Bloom's honor, means so much as he has been the person I've looked up to the most in this field," said Estee. "I had worked with him since early in my career. He treated every single person with kindness and gave the best care to every single family. I'm so grateful to have received an award in his honor. It means the world to even be in the same conversation as Dr. Bloom. I couldn't be more honored."